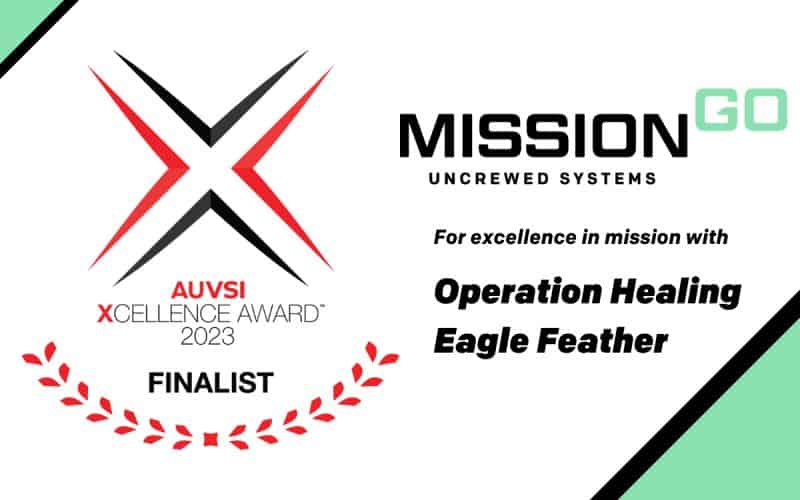 MissionGO, Inc. has been nominated as a finalist for this year's Association for Uncrewed Vehicles Systems International (AUVSI) XCELLENCE Awards for its Operation Healing Eagle Feather.
Operation Healing Eagle Feather, a multi-flight demonstration showcasing the possibilities of UAS solutions in the Navajo Nation, was selected from a pool of accomplished applicants as one of five finalists for the Humanitarian category.
In January 2022, MissionGO was invited by the Navajo Nation Office of the President and Vice President to transport supplies and essential items like prescriptions, emergency kits, first aid, and livestock medication for the first time in Window Rock, Arizona – the seat of government and capital of the Navajo Nation.
"The goal of our critical cargo division is to demonstrate how uncrewed aircraft systems can change the world with safety and impact as the primary drivers," said Chris Corgnati, President of MissionGO. "Working with the Navajo Nation was an incredible privilege and we hope this demonstration is just the beginning of how UAS can enhance daily life of America's indigenous nations."

The AUVSI XCELLENCE Awards honor individuals and organizations that are innovators in the uncrewed systems industry, with a demonstrated commitment to advancing autonomy, leading, and promoting safe adoption of uncrewed systems, and developing programs that use these technologies to save lives and improve society.
"This year, XPONENTIAL is all about designing a shared plan for the future of autonomy," said Brian Wynne, President and CEO of AUVSI. "There's no better place to announce the 2023 XCELLENCE award finalists. Together, they're redefining what's possible with uncrewed and robotic technology."