Fusion Engineering is a developer of cutting-edge drone flight controllers developed from the ground up to support the next generation of UAV (unmanned aerial vehicle) operations. UST is delighted to welcome Fusion Engineering on board as a supplier partner, and we will be highlighting their unique solutions and capabilities across our channels over the next 12 months.
We've just launched Fusion Engineering's UST supplier profile, which has been written and built by our team in collaboration with the company. The Silver profile showcases their state-of-the-art Fusion Reflex drone flight controller for quadcopters and other multirotor platforms.
Read on to find out more: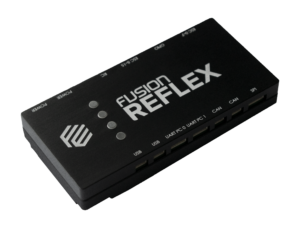 The Fusion Reflex is a cutting-edge flight controller that provides an unprecedented combination of rapid integration, versatility in connectivity, and enhanced flight performance. Based on the latest developments in state estimation, flight control, and fault tolerance, it is designed for commercial drone manufacturers looking to create groundbreaking platforms for new markets and applications that were previously thought to be impossible.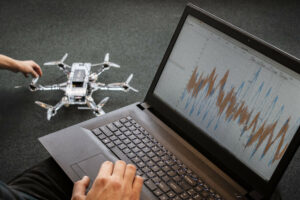 The flight control software runs on top of a Linux-based system, and is written from the ground up in the highly reliable Rust programming language. The isolated modular architecture ensures that a bug in one process will not affect others. Individual modules can be immediately restarted without interrupting other functions, allowing the drone to keep flying throughout. This flexible approach also allows users to easily add their own custom software modules. Fusion Reflex is fully compatible with QGroundControl and other software that requires MAVLink communications.
The innovative UAV flight control system has been developed in conjunction with TU Delft Research Lab and tested at the Royal Netherlands Aerospace Centre (NLR). Fusion Engineering continually adds new features and functionality to ensure that Fusion Reflex remains at the forefront of drone flight technology.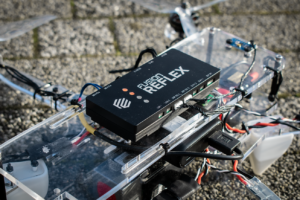 The company is working closely with the FAA and EASA to achieve certification for assured safety and reliability. Fusion Reflex is designed to exceed the required standards for FAA Part 107 waivers and EU requirements for SAIL 5 & 6 categories of high-risk drone operations.
Examples of how Fusion Reflex can take multirotor operations to the next level include:
Significantly improving drone resistance to challenging wind conditions, allowing offshore wind and energy platform inspections to be undertaken more often
Eliminating the chance of lightshow quadcopter drones crashing into each other, reducing risk and allowing them to fly in tighter formation
Improving the precision of contact operations, such as applying paint coatings to turbine blades
To find out more about Fusion Engineering and the Fusion Reflex drone flight controller, please visit their profile page: https://www.unmannedsystemstechnology.com/company/fusion-engineering/