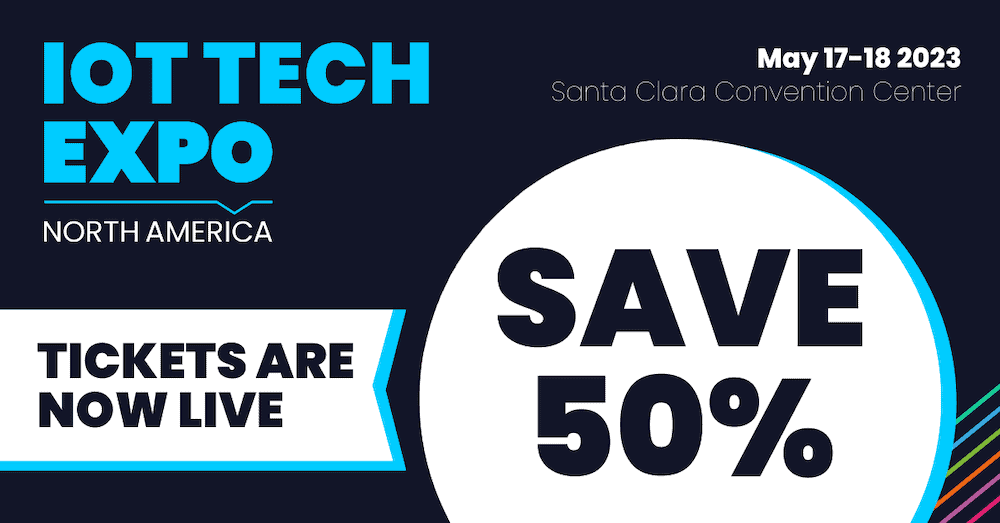 Tickets are now on sale for IoT Tech Expo North America, being held at the Santa Clara Convention Center, 17th-18th May 2023. 
First release tickets are now available at a discounted rate of 50%, with prices set to increase 20th February. Secure your spot now>
With an expected 6,000 attendees, 250 exhibitors and 250 speakers, this year's event promises to be bigger and better than ever.
In addition to enabling free exhibition floor access for everyone, Gold tickets will offer an opportunity to listen to knowledge-packed presentations and panel discussions featuring key players sharing their expertise and insights about the Internet of Things.
The event agenda promises to discuss topics such as:
Digital Acceleration through the IoT
Staying on Track with Digital Twins
5G Capabilities
Building Automation
Building a Robust Cyber Security Strategy
The Next Frontier for Industrial Digitalization
Additional subjects will be announced soon.
Ultimate ticket holders will have a chance to join additional sessions at co-located expos, including Edge Computing, AI & Big Data, Digital Transformation, Cyber Security & Cloud, and Blockchain.
The expo will also have a dedicated, private area for networking, where attendees can connect with other professionals.
Gold and Ultimate ticket holders will be able to use the online networking platform for up to two weeks prior to the event and join a networking party, allowing them to relax and connect in a fun and cordial setting, with free drinks and snacks included. 
First release tickets are now available at a discounted rate of 50%, with prices set to increase 20th February. Secure your spot now>