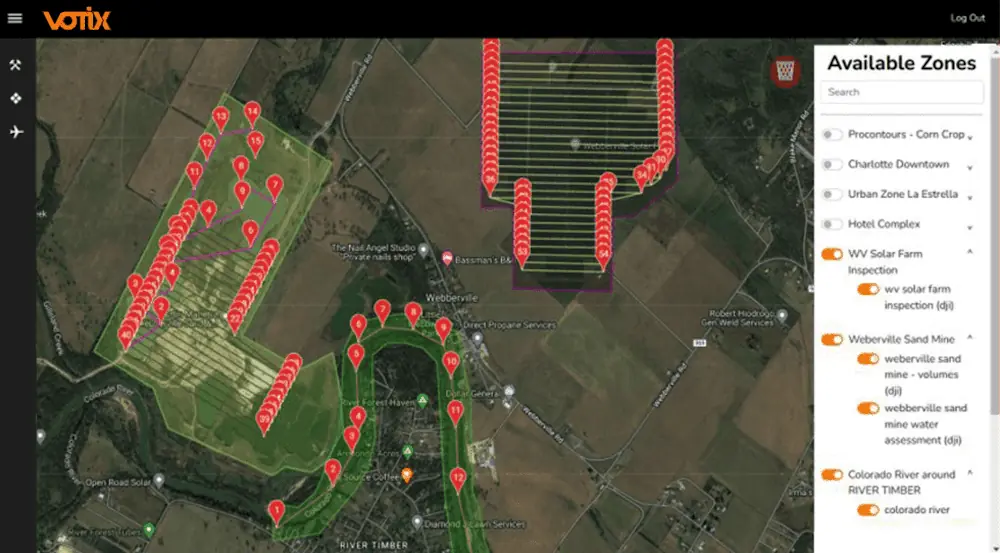 Iris Automation is partnering with VOTIX in order to provide a comprehensive drone management solution for safe BVLOS operations.
The integration of Iris Automation's Casia G ground-based detect and alert system into the VOTIX cloud-based drone operating system enables real-time operational airspace data, including precise location and classification of intruder aircraft, allowing for automated conflict resolution via the VOTIX platform.
This integration aims to support remote operations for enterprises that need effective and flexible drone BVLOS deployments, from routine automated inspections of critical infrastructure to rapid mobilization seen in Drone as First Responder (DFR) programs.
This hardware-software solution will feed data from the Casia G system into the VOTIX platform to provide a complete picture of the operational airspace in real-time. A key requirement to obtaining BVLOS regulatory approvals is the ability to detect non-cooperative aircraft at distance. The Casia G system fulfills this by monitoring the airspace and providing precise location and classification data of intruder aircraft, enabling automated conflict resolution via the VOTIX platform. The companies believe this brings a new level of safety and mission capability to customers looking to expand their operations at scale.
VOTIX's 'Drone Orchestration' approach integrates all processes and systems required for a BVLOS operation. Its drone-agnostic solution enables and tracks effective C2 and live video stream, including use of cellular connectivity, integrates Casia G for Detect-and-Avoid technology, automates conflict resolution, integrates weather tracking and traffic management, controls operational limitations, automates fail-safe measures to increase safety, performs autonomous flights, enables precision landing and drone-in-a-box integration.
Casia G creates a stationary perimeter of sanitized, monitored airspace without the need to add additional sensors or payload to the drone. Using patented computer vision technology, Casia G alerts the Remote Pilot in Command (RPIC) if a risk of collision is present and allows the drone to maneuver to safe zones. This eliminates the need for the pilot to maintain visual contact with the drone or to have Visual Observers (VOs) in place to monitor the skies.
"Our mission is to make BVLOS easy," said VOTIX CEO, Ed Boucas. "We have integrated every aspect of drone operation in a single pane of glass so pilots can easily perform safe and secure BVLOS flights."
A good example is the drone inspection provider AviSight which, using the VOTIX platform, obtained two ground-breaking waivers for recurrent BVLOS inspections over several miles of Shell pipelines in the US. The FAA approved the first waiver in just nine days of receiving the application with VOTIX reports.
In December 2022, Iris Automation received a third FAA BVLOS waiver without the need for VOs based on a network of two separate Casia G nodes. Connecting additional nodes can significantly extend the UAS operational area while still giving customers the flexibility to move their operations to a different location quickly if needed.
"To safely advance unpiloted operations, technology companies across our industry need to collaboratively deliver their innovative technologies in seamless solutions that are easy for customers to consume," said Iris Automation VP of Product, Jason Hardy-Smith. "Our partnership with VOTIX is a terrific example of that, delivering a complete platform for RPICs to safely and efficiently execute their missions."