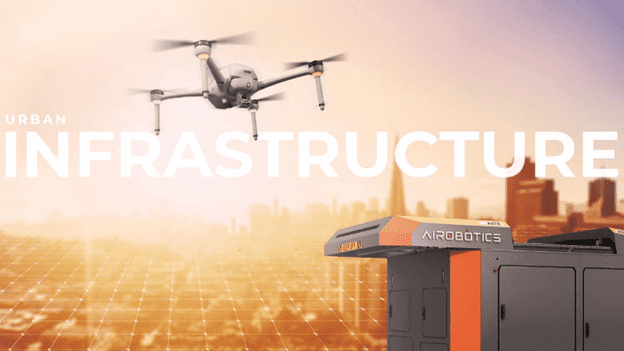 Airobotics, Ltd. and Sky Go Transport of Goods L.L.C, a UAE-based company with commercial license to provide unmanned aerial transport of goods and services across the city of Abu Dhabi, have signed a Term Sheet for Joint Venture (JV) to provide aerial drone services to the city of Abu Dhabi.
As a part of the partnership, Ondas Holdings subsidiary Airobotics has received an initial multi-system purchase order for $3.5 million from SkyGo, subject to the finalization of required formalities. The purchase order is conditioned by the completion of proof of concept.
Through the SkyGo JV, Airobotics and SkyGo will deploy Optimus Systems at Industrial and Municipal sites, leveraging the autonomous Optimus System drone platform for various services and capabilities. The companies expect to deploy more than 20 systems across Abu Dhabi over the next few years.
The Term Sheet with SkyGo comes after the acquisition of Airobotics by Ondas. The SkyGo JV initiative was developed and advanced by DoverTower DMCC, a UAE company that specializes in large-scale tech partnerships in the country and the region.
"We are excited to work with the visionary leadership of SkyGo to deploy valuable drone services to critical infrastructure, logistics and government customers across the city of Abu Dhabi," said Meir Kliner, Airobotics Founder and CEO. "The combination of SkyGo's market and application expertise and Airobotics robust technology platform enables a powerful partnership. We believe the Smart City drone services go-to-market model with SkyGo in Abu Dhabi will be scalable in many markets throughout the world providing a wide variety of smart cities data solutions in urban environments."
The Airobotics Optimus Urban Drone Infrastructure is expected to be deployed throughout Abu Dhabi to conduct various types of missions, including providing public services in a sustainable and scalable manner. The Urban Drone Infrastructure, which is designed to operate as a network of smart drones, will be used in various cases such as aerial priority delivery and monitoring missions to increase the safety and quality of industrial operations in facilities such as ports, railways, highways etc.
"Our partnership with Airobotics will enable us to offer a wide range of services to our customers in Abu Dhabi using their Optimus System, an autonomous drone platform with powerful capabilities," said Mohammed Al Dhaheri, SkyGo CEO. "Through this partnership, SkyGo will benefit from the technical expertise of the Airobotics team combined with our innovative business model and local knowledge."
Airobotics expects the initial commercial customer deployment by the SkyGo JV in the first quarter of 2023.