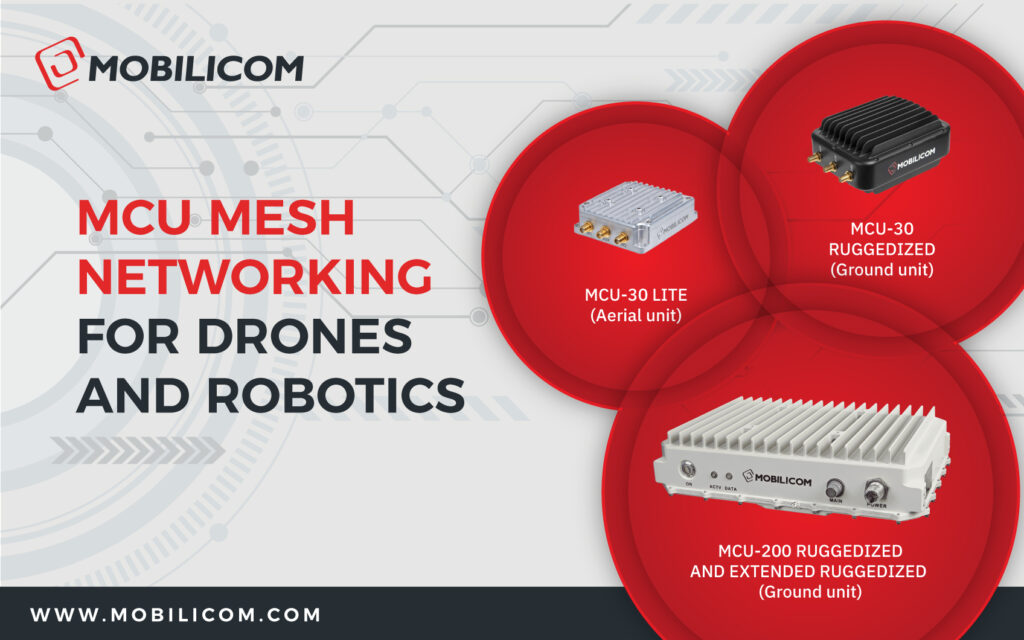 Mobilicom's family of MCU Mobile Communication Units deliver ad-hoc direct wireless mobile communication without the need for any infrastructure. The Cybersecure Software Defined Radios support Mobile MESH and IP communication and incorporate Mobilicom's unique, multi-tier ICE Cybersecurity Solution. This 360 multi-faceted suite, which comprises Immunity, Cybersecurity and Encryption, protects the platform by safeguarding communication channels and encrypting the transmitted data.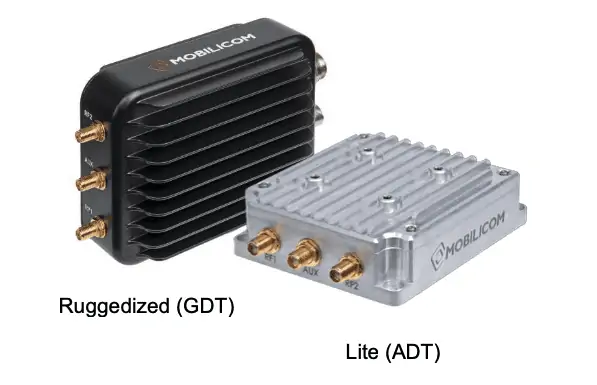 MCU-30 – with low power consumption this lightweight unit is especially designed for installation as an ADT (Aerial Data Terminal) and GDT (Ground Data Terminal) for drones and robotics. Featuring robust N-LOS (non-line-of-sight) Mesh operation plus broadcast, multicast, and unicast transmission modes, the MCU-30 Lite has been designed to meet Aerial Data Terminal (ADT) requirements, whilst the MCU-30 ruggedized version meets Ground Data Terminal (GDT) requirements.
For harsh environments the extended ruggedized MCU-30 provides additional protection against shocks, vibration, dust, humidity, rain and extreme temperatures, making it ideal for robots and UAV's (unmanned aerial vehicles).
The MCU-30 family was designed to cover up to 15Km with Omni antennas and can achieve longer range by using directional antennas.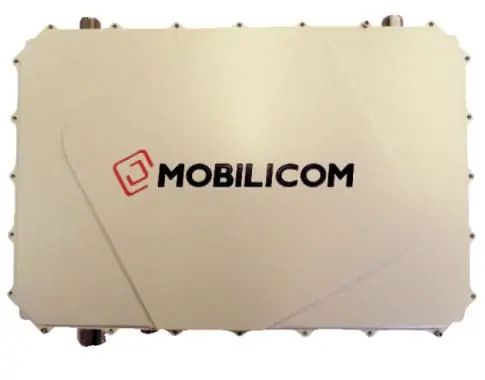 MCU-200 – With a ruggedized casing the MCU-200 unit is rain proof and can withstand the harshest environments and conditions.
The extended ruggedized MCU-20 is IP67 compliant and designed for large-scale Ground Data Terminals (GDT) in mobile networks of UAVs and for UGVs (unmanned ground vehicles).
Ideal for large-scale mobile network communications the MCU-200 is designed to operate as a GDT for networks of tens kilometres (by using different antennas types).
Mobilicom MCU-30 & MCU-200 Highlights:
Cybersecure Bi-directional, configurable software
Defined radio (SDR) Data Link
ICE (Immunity, Cybersecurity, Encryption) suite
MIMO Advanced Antenna Processing
Mobile MESH
Fully synchronized system (GPS or w/o GPS)
Real-Time GPS
Wide Frequency Range – 75 MHz to 5.9 GHz
NDAA compliant