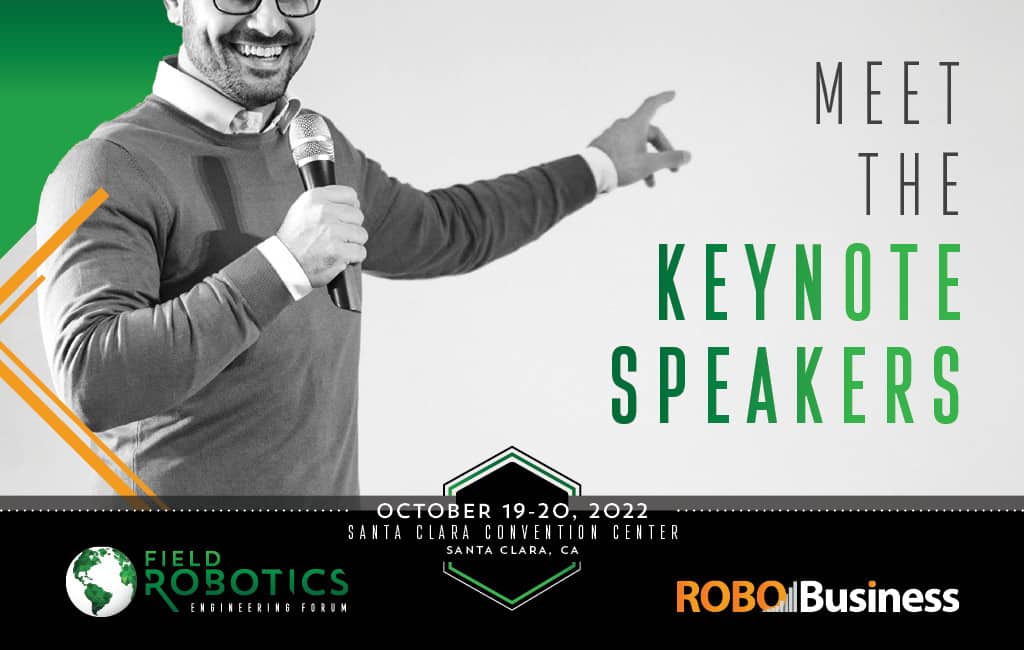 The lineup of keynote presentations at this year's RoboBusiness Conference promises valuable insights into the trending topics of the robotics industry, with experts from leading robotics companies like Robust.ai, Waymo, DHL Supply Chain and Agility Robotics presenting.
Learn more about what to expect from the keynote presentations below and view the full agenda here. You can explore the exhibit floor here.
Don't forget to reserve your conference pass: October 19-20th at the Santa Clara Convention Center in Santa Clara, CA. Attendees of RoboBusiness will also gain access to the Field Robotics Engineering Forum.
Save 25% off full conference passes by registering here and using code UST25 at checkout. (Expo only passes also available, but not subject to 25% discount)
Keynote Presentations – RoboBusiness
Designing the Robot Future We Want to Live In
Anthony Jules Founder & CEO | Robust.ai
This farsighted keynote presentation will elucidate the significant business opportunities available for those willing to take the hard road of intentionally designing and developing systems for the positive future we all want to live in – one that enables people to work in true collaboration with machines.
Developing Autonomous Vehicles
Allison Thackston, Technical Lead & Manager | Waymo
Thackston will give attendees an inside look at the major technical challenges involved with developing autonomous vehicles. She will also provide updates on recent deployments and what the future holds for autonomous vehicles.
All In on Innovation: Using Automation to Define the Future of Supply Chain
Sally Miller Chief Information Officer | DHL Supply Chain
This informative keynote session will discuss the state supply chain automation and innovation, including:
Why robots and robotics technologies are required for supply chain operations
What automation products and technologies are working
What automation solutions require optimization and further development
What is the future of logistics automation and how will success be measured
Building Human-Centric Robots for Real-World Tasks
Jonathan Hurst, Chief Technology Officer & Co-founder | Agility Robotics,
Damion Shelton, Co-founder & CEO | Agility Robotics
Agility Robotics co-founders will discuss the development of their bipedal robot, Digit, and how it's being built to perform real-world tasks such as unloading trailers and moving totes and packages.
Robotics Sector Fundraising and Investment – Status, Trends and Recommendations
Fady Saad, Founder & General Partner | Cybernetix Ventures
Martyna Waliszewska, Investment Manager | Invest in Odense
Karthee Madasamy, Founder & Managing Partner | Mobile Foundation Ventures
Sherwin Prior, Director | Amazon Industrial Innovation Fund
A panel of leading robotics sector investment professionals will discuss venture capital and private sector investment in companies producing robots or enabling technologies. The discussion will highlight companies, technologies, and applications that have found commercial success or have the potential for doing so.
Keynote Presentations – Field Robotics Engineering Forum
A Field Robotics Journey
Mel Torrie, CEO & Founder – Autonomous Solutions Inc. (ASI)
Torrie will provide attendees with a first-hand account of the opportunities and challenges delivering field robotics solutions to the marketplace. Attendees will be provided with lessons in adversity, culture creation, robotics development, bootstrapping, fundraising, negotiating with billion-dollar OEMs, and successful autonomy product rollout.
Dexterous Robots Transform the Worker Experience in Complex Unstructured Environments
Kiva Allgood, Chief Executive Officer – Sarcos Robotics
Allgood will discuss her vision of the future of these types of next-generation robotic systems, including how emerging technologies such as artificial intelligence and supervised autonomy will play a significant role.
The Flat-Out Best Way to Dig: Autonomous Excavators Are Here
Noah Ready-Campbell, Founder – Built Robotics
A look into the next major leap in construction technology since hydraulics, namely heavy equipment robotics. Noah will outline the development of Built's flagship product, the Ecosystem, a heavy equipment aftermarket upgrade that transforms excavators into fully autonomous trenching robots.
Save 25% off full conference passes by registering here and using code UST25 at checkout. (Expo only passes also available, but not subject to 25% discount)