Join the American Conference Institute (ACI) at the Unmanned Systems West conference on September 29-30, 2022, in San Diego.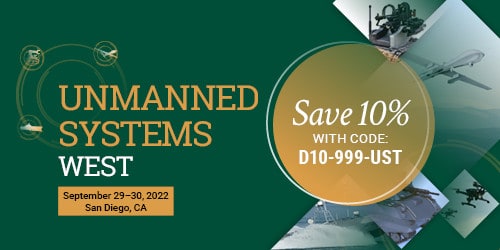 As Unmanned Systems and Robotics capabilities continue to grow exponentially, Military, Academia and Industry thought leaders are collaborating to safely and effectively incorporate unmanned systems into combat and within multi domains (Air-Land-Sea).
Join ACI's Unmanned Systems West Summit as its faculty and representatives address these topics as well as emerging opportunities, capabilities, requirements and technologies, and applications for unmanned systems and what this continued development means for military.
Hear directly from government officials, including:
The Honorable Nickolas H. Guertin – Director of Operational Test & Evaluation at the Office of the Secretary of Defense
Bryan Scurry, SES – Executive Director at Naval Air Forces U.S. Pacific Fleet
Dr. Jaret C. Riddick – Principal Director for Autonomy at Office of the Director of Defense Research and Engineering for Modernization OUSD
Dennis Teefy – Project Director at Electronic Warfare and Sensors
Colonel Nathan Diller, USAF -Director at Air Force Research Laboratory
Click here to view the full agenda, faculty lists, and brochure>