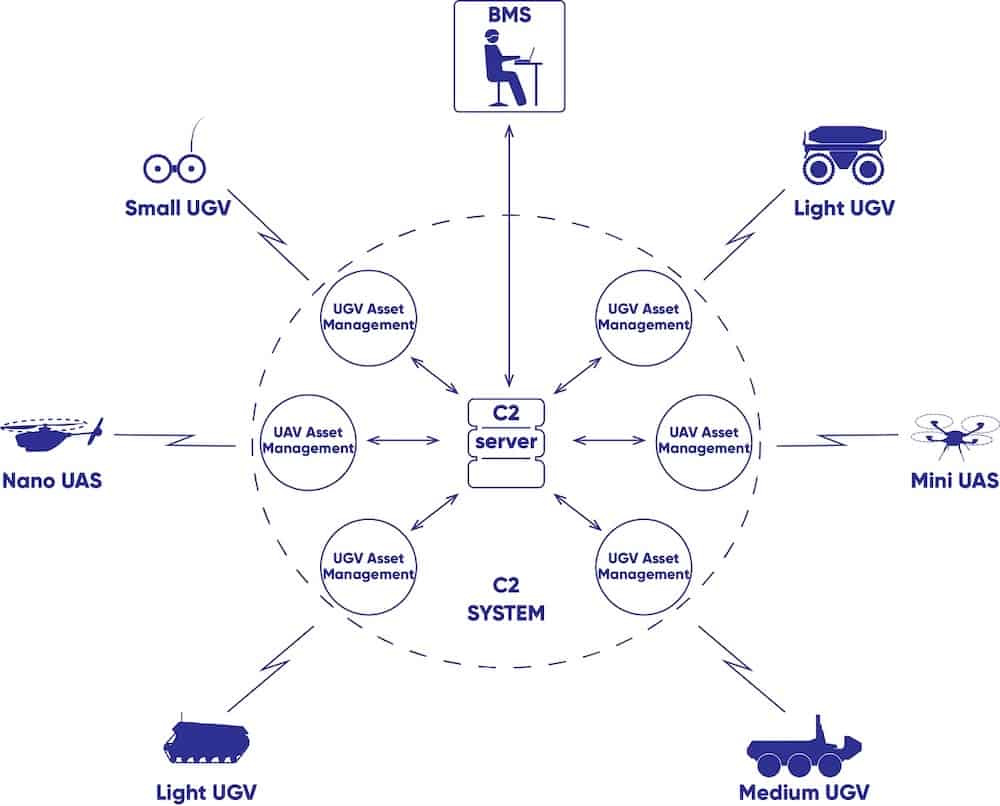 Milrem Robotics will launch its Command and Control (C2) system for intelligent unmanned systems at Eurosatory 2022, 13-17 June. The system has been developed in cooperation with Fleetonomy.ai, Rait88, MIL Sistemika and other partners.
The solution integrates different unmanned aerial and ground assets (UxV) into a composite C2 system and merges sensor and effector data from multiple payloads. It allows the constant monitoring and controlling of the UxV systems' most important variables, such as energy status, fault conditions, operating parameters, built-in diagnostic tests, initialization, and configurations.
The C2's autonomy engine is capable of remotely navigating and controlling the position and motion vectors of the UxV's and/or other integrated RAS components.
It supports user-defined autonomous missions and behavior sets, delivers an ALFUS Contextual Autonomy Capability level of 4+ for behaviors related to autonomous navigation such as route planning, object avoidance and geo-mapping. It also provides many autonomous functions like flight control, target detection and automatic optimized routing.
The autonomy engine autonomously creates routes against pre-determined mission sets such as search, intercept, shadow etc, considering the selected vehicles' mobility and intelligence characteristics.
"Integrating different unmanned systems and traditional manned assets through a command-and-control system enables the efficient deployment of autonomous vehicles on the battlefield," said Kuldar Väärsi, CEO of Milrem Robotics. "Integrated autonomous ground systems enable a significant increase of firepower and capabilities using fewer human resources and at the same time increasing the safety of our troops, which has always been the goal of Milrem Robotics."