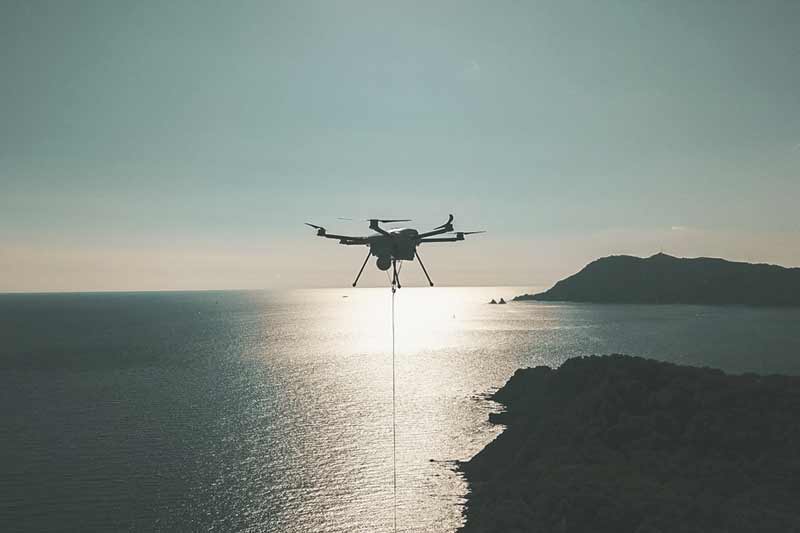 Elistair has confirmed that its Orion 2 tethered UAV (unmanned aerial vehicle) has been selected for use in the Nestor project, an EU-funded initiative that aims to address the protection and safeguarding of southern European marine and land borders.
The project will focus on border surveillance and the development of a system with high levels of operational efficiency that will increase vigilance over widespread areas. The proposed solution will involve detection, reconnaissance, classification, and the tracking of moving targets.
Elistair's Orion 2 UAV will form part of an autonomous platform for surveillance and coordination that can be remotely controlled to facilitate the tracking of moving targets. The involved technologies will form an integrated and embedded network for land and maritime missions.
Orion 2 will provide continuous aerial surveillance within the larger network of cooperating technologies and systems. Advantages of the platform include:
Long endurance coverage: border surveillance covers a range of security parameters, including long-endurance video coverage and capture. The Orion 2 can be used to establish persistent video surveillance thanks to the ability to fly for over 24 hours while simultaneously retransmitting video feedback in real time.
Widespread visual coverage: to detect any danger or illegal activities in high-risk areas with limited visibility, the use of the Orion and its integrated camera provides a detailed view of a vast perimeter of 10km in any direction, which facilitates the detection and tracking of targets.
Reduced deployment time: participation in Nestor requires devices to be discreet and to be easily and quickly deployed for operation. Elistair's tethered systems can be fully deployed in under 15 minutes.
Secured communications: the system's setup allows for secure communications through the tether cable, with data transfer occurring in real time. With telecommunications being instrumental to the project, the Orion's capabilities were appreciated and duly integrated in an overarching system including 3D radars, RF systems for the detection of radio signals, and land and maritime vehicles with automated piloting and software for the analysis of social media platforms. All these technologies combine to create an optimal and cohesive whole adapted to the specific needs of border surveillance organisations.
Small logistical and visual footprint: The Orion 2 has a small visual and audio footprint, which guarantee increased discretion in operation. It also has a small logistical footprint, being compact and easily transportable.
Nestor contributes to the long-term European strategy for secure borders by integrating state-of-the-art technologies to develop a series of innovative border control tools. These tools will complement the operations to enhance the capability of border authorities and security officers to detect, assess and respond to critical situations at the EU borders, at sea and in unpopulated or scarcely populated land areas.