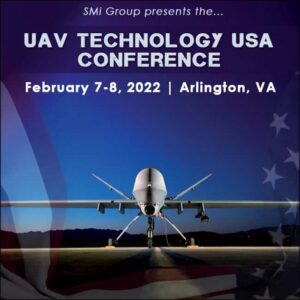 SMi Group has confirmed that the forthcoming UAV Technology USA conference will be taking place in-person at the Hilton Arlington in Virginia next week, and registrations are closing soon.
The UAV Technology USA Conference, being held February 7-8th 2022, is the newest and most forward-thinking unmanned systems event in North America, bringing together leading UAV program leaders from the US and beyond to create a forum for mutually beneficial discussions between military, industry, and academia.
Delegates will have the opportunity to explore a range of topics, including: US and international UAV development programs, certification and regulation, stealth technology, drone R&D, future force design using these hi-tech military assets, UAV maritime and border surveillance requirements, next generation UAV weaponization, developing training and tactics for UAV operations, and much more.
The conference is free for U.S. DOD personnel to attend (contact Jack Overell on [email protected]); all other attendees can register online at http://www.uavtechnologyusa.com/unmannedsystemstechpr.
The event has attracted high level military representatives and industry leaders from the likes of: 11th Security Forces Squadron S5, 556th Test and Evaluation Squadron, AeroVironment, AF-TE, AFWERX, Airbus US Space and Defense, Anduril Industries, Ball Aerospace, Bowmar LLC, Brazilian Navy, Brigham Young University, British Defence Staff, Bruce H Lindsey & Associates, LLC, Clark Street Associates, Collins Aerospace, DARPA, Defense Technical Information Center, Department Of Homeland Security, Echodyne Corp., Equinox Innovative Systems, Federal Office of Bundeswehr Equipment, Information Technology and In-Service Support (BAAINBw), General Atomics Aeronautical Systems, Inc., Honeywell, HQ Air Command, Royal Air Force, Hughes Network Systems, LLC, Jetoptera, Inc., Joint Counter-small UAS Office, Kratos Unmanned Aerial Systems, Lockheed Martin, MicroLink Devices, Inc., Mitchell Institute of Aerospace Power Studies, Mitsubishi International Corporation, Mynaric USA, Northrop Grumman Corporation, Pratt & Whitney, Rolls-Royce, Royal Air Force, Royal Australian Air Force, Royal Canadian Air Force, Safran, Vectronix AG, Survice Engineering Company, Tenax Corporation, Tomahawk Robotics, Twist Bioscience, U.S. Air Force, U.S. Air Force Academy, U.S. Air Force Futures, U.S. Air Force Research Laboratory, U.S. Army Aviation Capabilities Development and Integration Directorate, U.S. Army Aviation Center, U.S. Army Futures Command, U.S. Central Command, U.S. Coast Guard Office of Aviation Forces, U.S. Marine Corps, U.S. Navy, UK Ministry of Defence, University Of North Dakota, USSOCOM, VUP-19 [Unmanned Patrol and Reconnaissance Squadron ONE NINE], plus many more.
View the full agenda at http://www.uavtechnologyusa.com/unmannedsystemstechpr.
UAV Technology USA Conference
February 7th – 8th, 2022
Arlington, Virginia
Gold Sponsor: Echodyne & General Atomics Aeronautical Systems
Sponsors: Equinox Innovative Systems, Fortem Technologies, University of North Dakota & Mynaric
For sponsorship enquiries contact, please contact Justin Predescu on +44 (0) 20 7827 6130 or email [email protected]
For delegate enquiries, please contact James Hitchen on +44 (0) 20 7827 6054 or email [email protected]