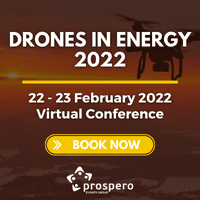 Prospero Events Group has released details of the virtual Drones in Energy 2022 conference, taking place 22 – 23 February 2022.
The peer-to-peer conference will discuss the evolving future of Drones in the Energy Sector, exploring how innovative unmanned systems are making the sector more efficient than ever.
The format of the event will allow participants to actively join the discussions with professionals from the industry. The event organisers promise the longest Q&A and interactive sessions for a virtual conference in Drones, Asset Inspection, Maintenance in the Energy Sector.
Confirmed topics:
The policies and regulations status for use of Drones in Energy and its impact
The value of Unmanned Aerial Systems for energy sector
Integration of Drones data in the current operations
Deployment of Drones to conduct inspections and plan sites
Training and availability of skilled workforce
COVID-19 impacts and best practices.
The confirmed speaker panel includes: 
Martin Bjornvall, Strategy & Business Developer, Vattenfall, Sweden
Erwin Loonen, Maintenance Robotics Program Lead, Shell, The Netherlands
Andre Coelho, Head of Asset Inspection, EDP Labelec, Portugal
Maan M.Iskander, Manager-Technical Services Department, Aramco Overseas Company
Yinka Yanju, Asset Engineer, Cadent Gas Ltd, UK
Arya Fazilat, Innovation & Digitalisation, 50Hertz Transmission GMBH, Germany
When: 22 – 23 February 2022
Where: Virtual conference (CET time)
An Early Bird discount is available for registrations until 11th February 2021. For more details and to register, visit: www.prosperoevents.com/event/drones-in-energy-2022/ or contact [email protected]