Registrations are closing soon for SMi's 7th Annual Maritime Reconnaissance and Surveillance Technology Conference, taking place on 2nd – 3rd February 2022 in London, UK.
During the two-day event, participants will learn about the latest technological developments from industry expert presentations focusing on optimising Maritime Reconnaissance and Surveillance Technology. The event will also facilitate the development of new partnerships to advance projects.

With registrations closing soon, register your attendance today: maritime-recon.com
SMi Group have confirmed the organisations that will be attending the Maritime Reconnaissance Surveillance Technology Conference – below is an excerpt of the attendees:
Armada International & Asian Military Review
Boeing
Commando Helicopter Force
Embassy of Brazil
General Atomics Aeronautical Systems UK
General Atomics Aeronautical Systems, Inc.
High Commission of Malaysia
Hisdesat Strategic Services, Inc.
Horizon Technologies Consultants Limited
Italian Ministry of Defence
Italian Navy General Staff
Joint Forces Command
MacDonald Detwiler Associates
Maxar
MDA
MDA Geospatial Services Inc.
MDA Systems Limited
NATO HQ MARCOM
Pole Star
Royal Navy
Tekever Ltd
TNO
S. Navy N2N6
UAE GHQ
UKSC
USMC
Windward
The conference aims to assist the advancement and engagement of Naval practitioners and Programme Managers through briefings, panel sessions and focused discussion groups on topics including Unmanned ISR platforms, Space-based Maritime Reconnaissance, Fleet Air Arm ISR capabilities, Sensors at Sea and more.
With only one week remaining, register today: maritime-recon.com – military personnel's attendance is free.
—
For sponsorship and exhibition enquiries, please contact Sadia Malick, Director on +44 (0) 20 7827 6748 or [email protected]
For media enquiries please contact Nisha Poyser Reid on +44 (0) 20 7827 6020 or [email protected]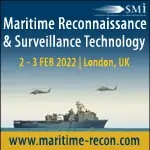 7th Annual Maritime Reconnaissance and Surveillance Technology
2nd – 3rd February 2022
London, UK
#MaritimeReconSMi
Gold Sponsors: General Atomics Aeronautical Systems, Inc. | Maxar
Sponsors & Exhibitors: Aerovironment | HisdeSat |Horizon Technologies | MDA | Pole Star | Tekever | Windward