MissionGO, a leading provider of unmanned aerial systems (UAS) solutions for public safety and commercial applications, has partnered with Unmanned Systems Technology ("UST") to demonstrate their expertise in this field. The 'Silver' profile highlights the company's expertise in survey and inspection of power utility infrastructure, state-of-the-art unmanned aircraft delivery of medical and commercial cargo, and training for eVTOL UAV operators.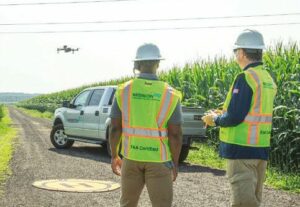 MissionGO provides advanced UAV-based inspection services for utilities and critical infrastructure, with highly-trained expert pilots and crew. The efficient and reliable eVTOL UAV platforms provide high-quality imagery and data with repeatable results, utilizing a safe and proven long-linear inspection method that allows pilots to cover miles of ground to capture the greatest number of inspection items possible in the shortest amount of time.
All operations are in strict compliance with FAA regulations, and follow a stringent Operational Risk Management (ORM) checklist to ensure the utmost mission safety and quality. All MissionGO pilots are trained in Crew Resource Management (CRM) for unmanned aircraft operations.
All data collected is immediately uploaded and stored on secure servers, and images are tagged and organized to facilitate seamless accessibility by the inspectors in almost real-time. MissionGO can also integrate our data solutions with client Geographic Information System (GIS) databases.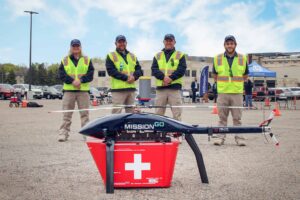 MissionGO's UAS Urban Cargo Airline and Unmanned Urban Cargo Airline fleets are first-to-market solutions for the time-sensitive delivery of critical goods within urban environments – contact the company for more information.
The MissionGO UAS Startup Program is an all-in-one solution for establishing a professional, compliant, and sustainable UAS program for any organization. MissionGO provides clients with expert assistance with pilot certification, aircraft registration, operational procedures and more.
The professional instructors are FAA Part 107 certified and have decades of experience in both manned and unmanned aviation and public safety/law enforcement instruction.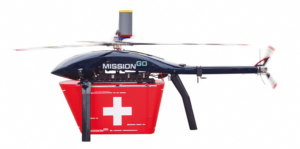 The MGV 100 is an advanced eVTOL (electric vertical takeoff and landing) UAV that unlocks the full potential of unmanned operations for aerial inspection and survey as well as critical cargo delivery.
The versatile platform can carry up to 22 lbs of payload and cargo, and provides a mission endurance of up to 90 minutes. It features a fully redundant design for maximum aviation safety, and is in the process of FAA Type Certification.
To find out more about MissionGO and their UAS services and training, please visit their profile page: https://www.unmannedsystemstechnology.com/company/missiongo-unmanned-systems/