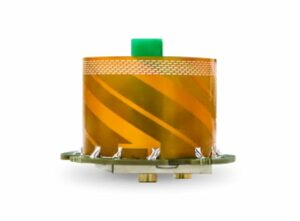 Harxon has launched the HX-CUX005A, an embedded helix antenna designed to provide high-precision positioning for a variety of applications including UAVs (unmanned aerial vehicles) and robotics. Tracking GPS, GLONASS, GALILEO and Beidou as well as L-Band correction services, the all-in-one positioning solution also includes integrated Wi-Fi and Bluetooth antennas.
The HX-CUX005A features a multi-point feeding technology that ensures a high phase center stability for enhanced positioning accuracy. With advanced patented D-QHA technology and covering a wider frequency band, the antenna achieves a gain of 2.5dBi. A wide beam width allows exceptional low-elevation satellite tracking with symmetric radiation patterns, delivering reliable and consistent performance even in challenging environments with significant blockages.
Weighing only 10g, the lightweight embedded antenna has a compact footprint with a diameter of 44mm and height of 37mm, making it ideal for integration into SWaP (size, weight and power)-constrained positioning solutions. The optimized circuit layout includes a robust pre-filtered LNA that features excellent out-of-band interference rejection performance and eliminates unwanted electromagnetic interference, providing reliable GNSS signals.
The HX-CUX005A has also been designed with integrated Wi-Fi and Bluetooth antennas (2.4GHz/5.8GHz), simplifying development and reducing costs for design engineers. The typical gain of 1dBi enables easy connection and configuration for mobile device users.