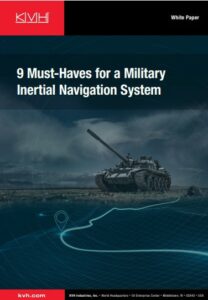 KVH Industries has released a whitepaper that discusses essential elements for military INS (inertial navigation systems) and explains why these attributes are so important. The whitepaper also highlights how high-performance fiber optic gyro (FOG)-based inertial systems can deliver superior navigation assurance and reliability for platforms such as UAVs (unmanned aerial vehicles) and UGVs (unmanned ground vehicles).
Download the full whitepaper from KVH's website
The essential elements discussed in the whitepaper include:
Accuracy and reliability – vital for challenging conditions and situational awareness
Redundancy – GNSS-aided inertial navigation and sensor fusion
The ability to counter jamming and spoofing actions
Easy integration into existing systems
Rugged durability in harsh military environments
High-performance inertial navigation systems for military applications must be able to survive a variety of challenging environments to operate successfully under battlefield conditions. To find out more, download the full whitepaper from KVH's website.