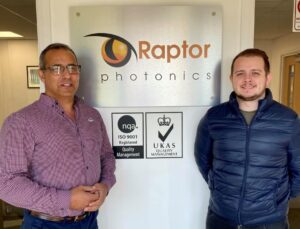 Raptor Photonics, a developer of SWIR (short-wave infrared), CMOS and EMCCD camera technologies for UAVs (unmanned aerial vehicles) and UGVs (unmanned ground vehicles), has expanded its sales force with the addition of two new members.
Joe Graham joins the team as Sales Manager. As a key part of Raptor's growth strategy to expand and pursue new markets, Joe will be responsible for growing sales worldwide. Joe is qualified in mechatronic engineering, and has previously held leadership positions in the telecoms industry.
Cameron Black comes on board as Technical Support Engineer. Cameron will be responsible for product support for Raptor customers, primarily in Europe and Asia, and is a qualified electronic engineer who has worked previously in QC and support roles.