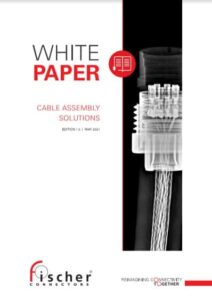 Fischer Connectors has released a whitepaper explaining the benefits of cable assembly solutions, which bring together connectors, cables, accessories and more to create reliable signal and power connections in systems such as UAVs (unmanned aerial vehicles) and robotic platforms.
Download the whitepaper from Fischer Connectors' website here
The highly detailed whitepaper covers a wide range of topics, including applications, connector types, termination methods, sealing requirements and other parts of the cable-design process. It guides engineers in selecting the most appropriate materials to ensure optimal performance.
Contents include:
The benefits of cable assembly solutions
Cable design considerations, including conductor size, materials and construction, flex life, strand construction, plating options, and insulation materials
Shielding types
Fillers & tapes
Strength members
Connector types
Termination methods
Strain relief requirements
Sealing requirements
Understanding the end-use application and its environment is crucial to a successful interconnect-solution design, and a wide range of factors must be considered. To find out more, download the free whitepaper from Fischer Connectors' website.