Fischer Connectors has been awarded the prestigious Red Dot Award for Product Design in two categories: the "Mobile Phones, Tablets and Wearables" category, and the new "Smart Products" meta-category.
The Red Dot Design Awards for outstanding achievements in product design was awarded to Fischer LP360™ connectors from the Fischer Freedom™ Series. The LP360™ connectors were praised by judges for unique design concept, which makes them both appealing to users and particularly easy to use.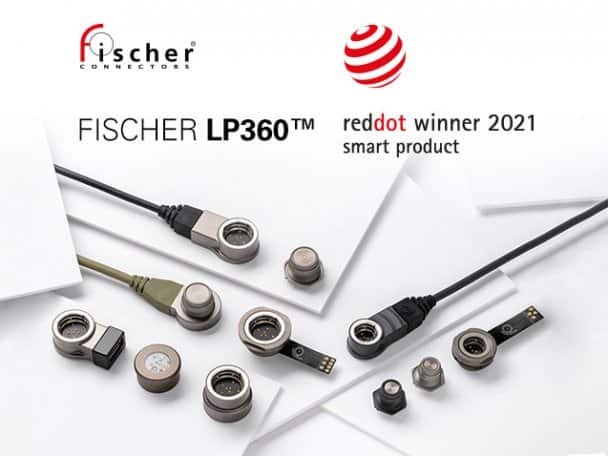 The Fischer LP360™ is a miniaturized active device, a fastening mechanism and an electrical signal and power connection all in one. This multifunctional integration capability and modularity is responsible for the connectivity solution's "smart" rating.
The rugged, low-profile connector was expanded in 2019 into a versatile technology platform that serves as an enabler for wearables and connected ecosystems in the Internet of Things and of Humans (IoT/IoH).
The breakthrough plug-and-use technology benefits both engineers and end-users. Multiple configuration options facilitate application design. The panel plug can easily be extended to multifunctional wearables, such as biometric sensors, communication systems, GPS, lighting and bodycams. These can be snapped quickly and easily onto the cabled receptacle, which is integrated into flexible structures like ready-to-use smart personal protective equipment (PPE) vests. Since the connector has no key code, it can be plugged in any position, optimizing cable routing and power management. Contacts are IP68-sealed with a membrane, ensuring that the connector is fully cleanable.
The low-profile design enables easy integration into any application, such as smart work vests. Mobile workers can benefit from lightweight equipment without cable clutter, faster and more intuitive setup, easy handling and cleaning, reliable connectivity, and fast data transmission for enhanced safety and performance.
In the citation for the award in the Smart Products category, the Red Dot Award jury said: "These connectors impress as a miniaturized and, at the same time, versatile technology platform with innovative 360-degree plug-in connectivity." For the award in the Product Design category, the LP360's user-friendliness was particularly highlighted: "The LP360 is impressively intuitive to use. It can quickly be inserted into the socket and is integrated into a connected vest, forming a hub."
Jonathan Brossard, CEO of the Fischer Connectors Group: "At Fischer Connectors, we have always seen ourselves as innovation drivers. The development of the Fischer LP360™ is a real milestone in our company history. We're very proud that our developers' outstanding performance has now been honored with two Red Dot Awards. This recognition of our achievement in industrial design by renowned experts is also an incentive for us to continue developing our connectivity solutions in such a way that they contribute to a networked industry and to the connected human".