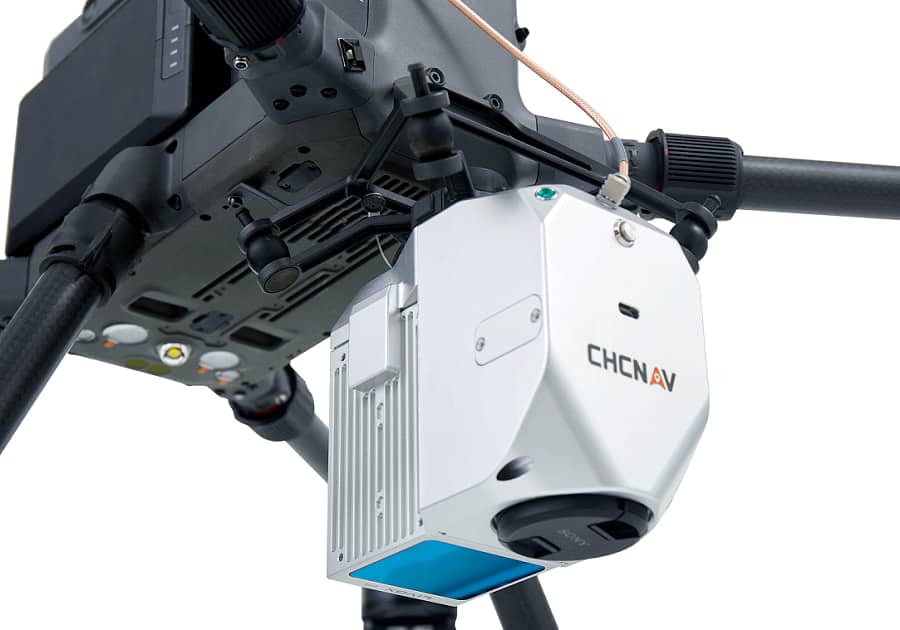 CHC Navigation has released the following case study that details the use of its AlphaAir 450 UAV (unmanned aerial vehicle) LiDAR scanner for the inspection of power lines. The AlphaAir 450 is a lightweight mobile mapping system that combines a high-precision IMU, industrial-grade GNSS, 3D LiDAR scanner, and camera to provide long-range scanning and high-resolution imaging capabilities.
With the rapid development of civil construction and the increase in demand for electricity in recent years, the power line construction market has grown considerably. At the same time, the efficient management of these large-scale power line networks and the guarantee of reliable power transmission are becoming increasingly important to ensure economic sustainability. A one-time power outage not only results in losses for power grid companies, but can also have serious repercussions for end users and society as a whole.
With the increasing mileage of high-voltage transmission lines, traditional observation and monitoring methods are no longer sufficient to meet maintenance requirements. Therefore, more automated and smarter inspection methods are needed, and the use of airborne LiDAR sensors provides a suitable solution.
Challenges related to power grid maintenance
As the scale of the power grid has expanded rapidly, the number of long-distance transmission lines has also steadily increased. A growing proportion of these lines are located in mountainous areas. To perform daily power line maintenance, asset inventory and power incident resolution, continuous monitoring is required. Currently, most daily inspections are performed by electrical engineers using ground-based observation methods or photogrammetry.
Challenges of these methods include:
High workloads – The rapid increase in power line mileage results in a high workload. Traditional ground-based inspection methods cannot keep up with operational requirements.
High labor costs – Ground-based observations are associated with low speed, high cost, poor accuracy and high labor intensity.
High standards – The day-to-day demand for higher quality observations has increased dramatically in recent years.
Helicopter use – Helicopters require long preparation time, high costs, and high risk, and are not an efficient solution for daily routine inspections.
LiDAR drones optimize digitization of power line corridors
The development level reached by LiDAR technology allows it to be used in power line monitoring applications. With aerial point cloud data and appropriate software processing, the power line is easily extracted and generated as a 3D digital model. In addition, the LiDAR solution also offers the rapid optimization and asset inventory capabilities required by the high scalability of the power line. LiDAR sensors support multiple echoes to capture the coordinates of the power line, electrical facilities, vegetation and ground objects in a single scan to significantly improve the inspection efficiency.
Some of the key benefits include:
Final acceptance inspection of a new power network project and raw file creation. This includes power line channels (trees and buildings), intersections (power lines, highways, railways), electrical installations (safety distances, gradients), ground wire sag and internal.
Simplification in calculating the safety distance between the power line and vegetation or new construction. Support for rough estimation of the vegetation growth pattern, the deformation of the line under high temperatures and the measurement of the interval between the points of intersection.
Site layout of the electrical facilities prior to the construction phase and design of the components' size.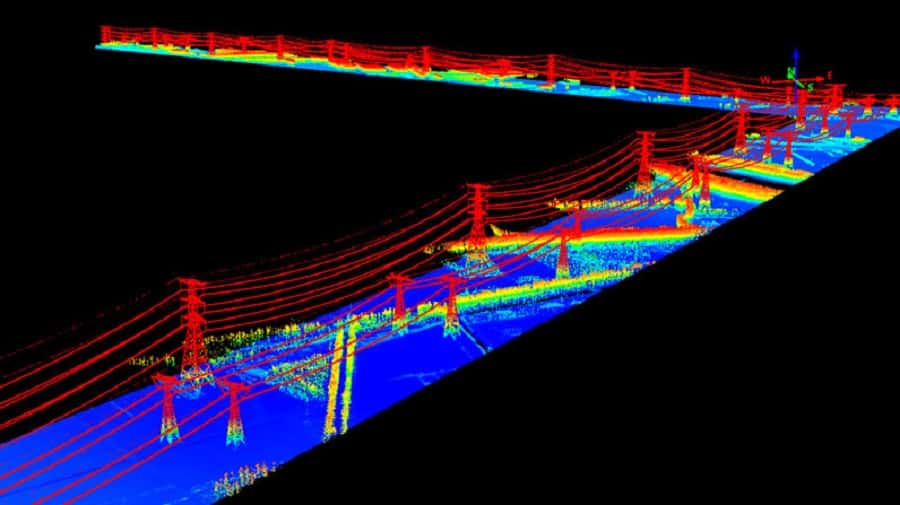 A typical airborne LiDAR survey workflow includes:
Mission planning
A well-designed mission plan is a key factor in the success of a drone LiDAR survey. Drone pilots must consider multiple factors such as local topography, flight time, project area, takeoff site, etc.
Data capture
The AlphaAir 450 handles both manual and automatic control procedures to start scanning during flight, and simultaneously captures point cloud data and high-resolution images.
Data processing
CoProcess is a software solution that contains a sophisticated Powerlines module for post-processing of inspection data. It enables rapid extraction of high-precision 3D information from point cloud data, including terrain relief, electrical installations, surrounding environment, etc. CoProcess provides a more scientific and efficient workflow for power system planning, daily maintenance and incident investigation.
Its 3D view management module includes multiple view types to display 3D point cloud data in an intuitive way. The point cloud measurement module makes the measurement of lengths, areas, thicknesses, densities, angles, etc. quick and easy. The powerful ground filter and classification function classify the point cloud data into ground points, power line points and surrounding object points. This function ensures automatic data processing and saves a lot of time.
CoProcess supports automatic DEM and DSM extraction from classified point cloud data, as well as manual and semi-automatic powerline extraction, which allows the extraction of powerline data from a large number of points. After extraction, it can perform additional automated detection and export the vectorized result. It can also output an obstacle detection analysis report, a vegetation growth forecast and a completion acceptance report. Automatic data control against the defined parameters generates alerts and statistical graphs for analysis if requirements are not met.
AlphaAir 450 improves mapping efficiency
The AlphaAir 450 features an integrated LiDAR and camera, enabling rapid extraction of information from point cloud data and acquisition of high-resolution images. Advanced powerline analysis software supports custom reports and data content. The AlphaAir 450 can be mounted on several types of drones, such as the CHCNAV BB4, fixed-wing UAVs, and DJI M300, allowing for extended flight time and high stability to meet the needs of power infrastructure maintenance crews.