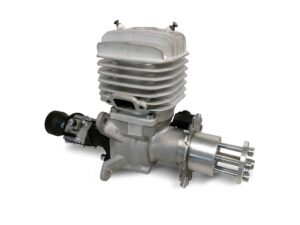 Sky Power GmbH has successfully tested its SP-55 TS carburettor UAV (unmanned aerial vehicle) engine using a high-stress running profile as laid out by the Federal Aviation Administration's (FAA) FAR33 airworthiness standards endurance test for aircraft engines. The test follows increased demand within the UAV industry for engines that can prove their endurance and reliability.
The SP-55 TS is an air-cooled 2-stroke single-cylinder engine, with a displacement of 55 cc (10.37 cu in) and output power of 3.07 kW (4.18 hp) at 6500 rpm. The engine uses Sky Power's proprietary electronic ignition system and a Walbro HDA6A carburettor for fuel delivery. The test used four different variants of unleaded gasoline, at a 50:1 oil premix ratio.
Prior to beginning the test, Sky Power defined various objectives to be achieved, including load limit and endurance data. The airworthiness of the engine was to be proven and documented against defined FAA standards.
The test setup was performed on Sky Power's stationary engine test stand. Testing was conducted according to a specified maximum temperature and speed profile for approximately 8 hours per day, until a prescribed test duration of 150 hours was achieved. At the end of each daily test cycle, the engine was subjected to an inspection based on a checklist to detect changes at an early stage, document them and rectify them if necessary.
Karsten Schudt, Managing Director of Sky Power GmbH, commented: "After a test period of 150 hours, as well as another 30 run-in hours prior to testing, the SP-55 TS successfully completed the test. And, of course, we wanted to collect data to further assess product operating limits, maintenance schedules, and hourly operating costs as they relate to the product life cycle."
"In addition to component hours, engine telemetry, environmental conditions and fuel consumption, all test results were documented, evaluated and summarized in a test protocol."
"The engine demonstrated the reliability we expected in the test. Nevertheless, we also gained new insights, such as the use of different fuels. For example, blending Aspen two-stroke fuel mixture with Shell V Power or Total Super Plus achieved the best results in terms of reducing deposits on the piston and cylinder. The maintenance intervals we specified also proved to be optimal."