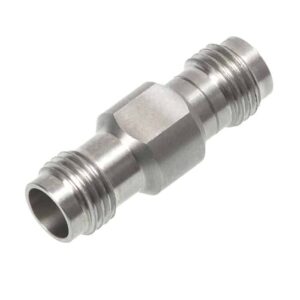 Cinch Connectivity Solutions, a Bel group company, now offer 1.85mm to 2.92mm, high frequency Between Series Adapters, which support 5G and IoT applications operating at mm wave frequencies
Popular with test and R&D labs, supporting frequencies up to 46.5 GHz Johnson offers various high-frequency adapters (same series and between series) that cover all configurations of 1.85mm, 2.4mm, 2.92mm, SMPM, SMP and SMA.
Cinch Connectivity Solutions' Johnson 1.85mm – 2.92mm Adapter Series is the broadest in the industry supporting 5G and IoT applications operating at millimeter wave frequencies. The rugged stainless-steel construction provides repeatable high-frequency performance for engineers involved in product design, test and manufacturing environments.
Johnson 1.85mm between series adapters are:
precision manufactured to RF component industry specifications
adapt to the 2.4mm and SMPM standards
maximum frequency of 50 and 65GHz
VSWR of 1.15-1.25
Available in jack to jack, jack to plug, plug to jack and plug to plug configurations.