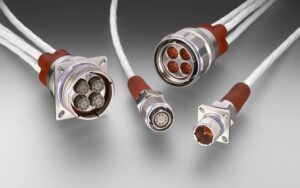 TE Connectivity's CeeLok FAS-X connector product line has been approved by the U.S. Naval Air Systems Command (NAVAIR) for use in MIL-DTL-32546 qualified applications, including UAVs (unmanned aerial vehicles) operating in maritime environments. The connectors are currently the only MIL-DTL-32546 approved solution for high-speed networking in military and aerospace applications.
Combining rugged reliability with signal integrity, CeeLok FAS-X connectors feature standard 38999 shells and high-reliability AS39029 contacts. It provides a size and weight saving compared with market legacy solutions such as RJ45 in M38999, offering a size 11 shell versus a size 19 shell.
TE's CeeLok FAS-X connectors offer up to 10 Gb/s data delivery along with the convenience of fast field assembly, termination and repair. The "X" pin configuration is designed to optimize signal integrity. The connectors are offered in both aluminium and composite shells with a variety of finishes.
Sean Bonifas, product manager for TE's Aerospace, Defense and Marine division, commented: "When we were approached by NAVAIR to build a defense detail specification around our FAS-X product line, we met the challenge head-on. It says a lot about the position of our CeeLok FAS-X connector in the market that NAVAIR chose to adopt it to become their specification. This connector, with its modular inserts, is a very versatile product line that can support a variety of applications."