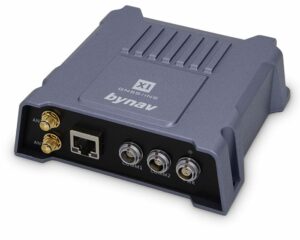 Bynav Technology has confirmed that its X1 GNSS/INS receiver has won the "Annual Best Reputation Product Award" at the 10th World Geospatial Developers Conference (WGDC 2021) held in Changsha, China.
The X1 is an integrated GNSS and INS (inertial navigation system) solution that combines high-accuracy, low bandwidth GNSS measurements with high-bandwidth IMU measurements to provide position, velocity, and attitude measurements in demanding environments. It has been widely used by OEMs autonomous driving system integrators, and the product and its algorithm have been verified and optimized under large-scale scenarios on more than 20,000 vehicles.
The CEO of Bynav Technology, Mr. Xiang, was invited to give a keynote speech at the conference, during which he announced the upcoming release of the X2, a high-precision automotive-grade GNSS/INS receiver specifically designed for autonomous driving applications.