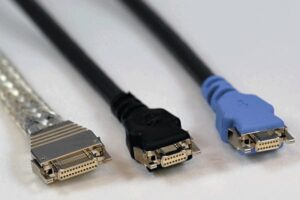 Omnetics are seeing an increasing demand for ruggedized miniature connectors connected to more complicated cable systems to handle very fast and clean digital signals. From high-speed Ethernet, to surveillance cameras and onto portable computers serving helmets, there is a move to highly mobile military systems.
Hand launched drones and robotic ground monitoring systems all fit into the new push within upgraded military requirements. As speeds go up and voltages decrease, signal integrity design and management is critical to the functionality required by Military and Aerospace applications.
Digital signal quality is more often assured by using differential cable design that matches the impedance of the output and/or input system of the processor boards and detectors.
Proper shield and drain wire interconnections increase accuracy of the system and help ensure appropriate eye pattern quality of the transmitted signal through the connector and cable assembly and reduce jitter and crosstalk.
Reduced size, lower weight and ruggedness immediately follow in the list of important specifications to serve the needs of portable ground troop electronics, airborne equipment (such as and UAVs) and in military satellite systems. Military connector designers must seriously plan and implement the use of military pin to socket elements that exceed the minimum requirements of wear during insertion and retraction force.
Read this Omnetics release in full >>
Connector and cable systems are designed differently to serve this new era. Standard Micro and Nano connectors are often easily modified to meet this demand and adjusted to fit into smaller, tighter spaces within electronic packages. As power and high-speed signals are combined, in the SWaP format, we see newer micro circular cable and connectors using hybrid designs that include 3 to 5-Amp pins included in the same housing as multiple sets of high-speed digital interconnections. These hybrids span the design range from miniature rectangular to miniature and Nano-miniature circular connectors. Performance to the same level as in Omnetics' older MIL-DTL-83513 and MIL-DTL-32139 are critical in assuring long range reliability in extreme environments.
One example of the connectors being used is the Nano-circular breakaway communication connector for pilot use in helicopters. They withstand constant high vibrations and allow immediate release for pilot escape if necessary. A second Nano-connector system is also being used for flight control modules in hand launched drones for surveillance.
Micro circular connectors with very small flexible wiring also route digital signal data from ground soldier's computers to helmet displays. These rugged devices include both power and up to 3 Gigabit speed digital processing. A trend is also occurring in military electronic module design. The need is for highly dense packs as the height of standard Micro-D connectors prevents vertical compression and stacking. Low-profile MicroD connectors do much of the same work and are significantly lower in height and withstand higher sheer shock and vibration for portable applications.
When selecting connectors and cables, system to system engineers should review carefully the distance from one box to the other and help manage. Planning for EMI (electromagnetic interference protection) that ensures clean lines without noise and/or even cyber intrusion is an important consideration. Those working within systems, close proximity can breed crosstalk and skew that will affect signal quality. Mechanical mounting on boards should be tight and clean. New Latching Micro and Nano connectors can help with mating and non-mating.