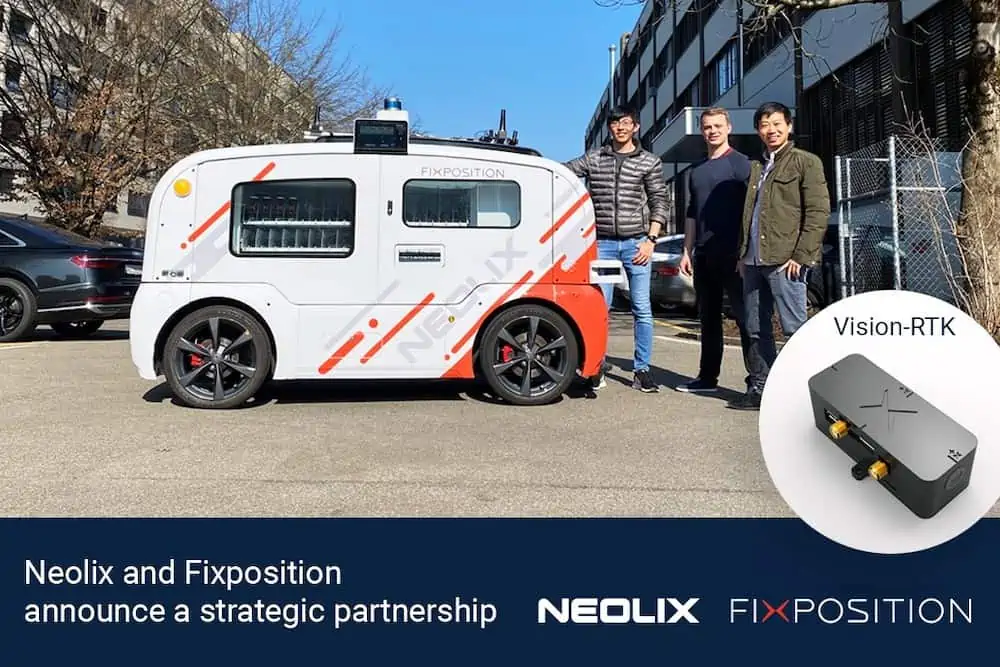 Neolix Technologies Co. Ltd. and Fixposition AG have formed a strategic partnership agreement in order to expand Neolix's operational reach and provide better service to more customers.
The partnership was initiated by Neolix's desire to operate in increasingly challenging navigational environments. Fixposition will provide Neolix with a localization system to assist with navigation through more complex settings: urban canyons, under bridges and underpasses, through parking garages, and more. 
Neolix has developed some of the world's most functional autonomous vehicles, providing services such as autonomous vending, express delivery, educational services for smart campuses and much more. To perform this variety of tasks more successfully and to further increase capabilities, Neolix autonomous vehicles should be capable of continuous operation in challenging positioning environments. Fixposition provides its expertise and technology to address navigating through these challenges.
In the new partnership, Fixposition will provide localization services which will assist Neolix to focus on its core competencies. With the addition of Fixposition's cutting-edge Vision-RTK positioning sensor, Neolix vehicles will navigate through more demanding environments and excel in a whole host of new scenarios. The culmination of this partnership will further assist Neolix to stand out amongst the competition both in terms of capabilities and services.
Neolix and Fixposition have signed a Memorandum of Understanding for a frame order of Fixposition's Vision-RTK and commit to a joint effort to push the business success of both parties.