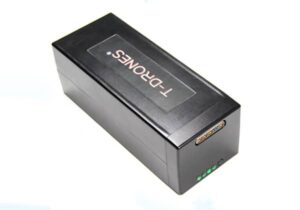 T-DRONES has developed a new smart battery, designed for use with the company's UAVs (unmanned aerial vehicles), that has been engineered to provide longer flight endurances of up to 72 minutes. The high-energy density lithium battery features optimized power management and is waterproofed for operation in harsh environments commonly encountered by drones.
The new smart battery incorporates built-in protection against over-charging and over-discharging, as well as extremes of temperature, and features a low-voltage alarm and automatic self-balancing of voltage among the unit's cells while charging. Users can turn the battery on and off with the push of a button, and a visible indicator provides easy visualization of the battery level.
The 6S smart battery is available in two variants – 22 Ah/10C and 30 Ah/5C.