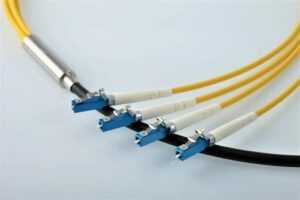 Alker has introduced GoOptics, a guaranteed warranty system for fibre optics that has been designed to minimize downtime for mission-critical equipment such as UAVs (unmanned aerial vehicles) and drones. The services guarantees Alker's fiber optics assemblies to continue working for the lifetime of the equipment containing them.
The warranty solution revolves around the immediate availability of duplicate internal components, which are placed within the Alker stock system at the time of manufacture of the assembly. Should damage occur, the assembly can be returned to Alker for repair or replacement and full testing with a turnaround time of 24 hours. Emergency assembly stock can also be held inhouse at the customer's place of business, allowing users to fix the issue immediately and on location.
The system allows customers to select a level of protection based on the number of repairs per year and the number of years' cover required.
To find out more about Alker's GoOptics guaranteed warranty system for fibre optics, watch the video below.