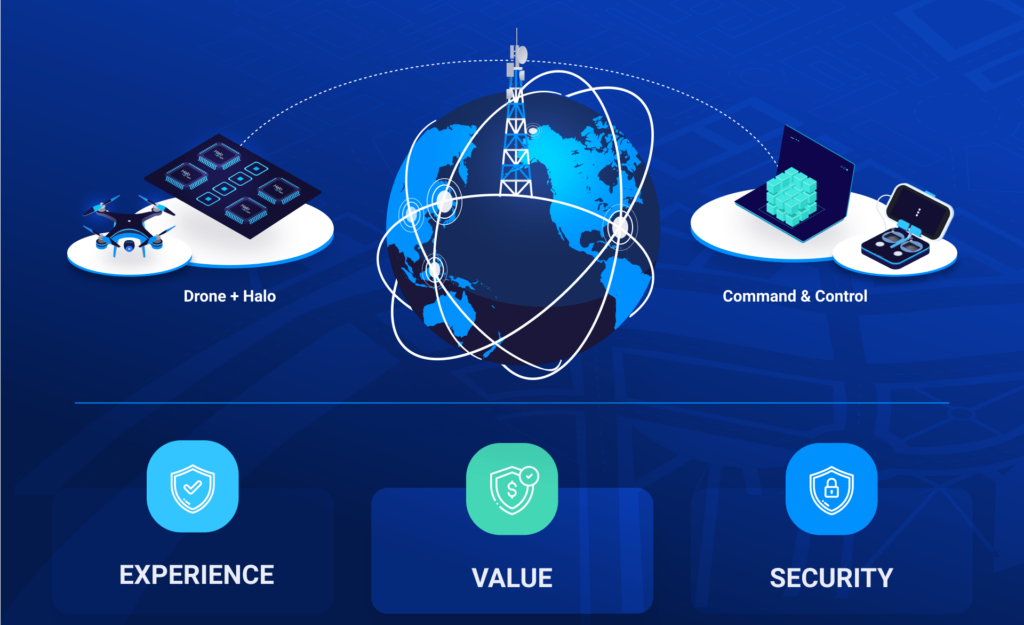 Elsight has achieved a number of milestones with its flagship Halo connectivity platform for unmanned aerial vehicles (UAVs). With over 4,000 operating hours (3,000+ in the air, 1,000+ on the ground) and the securing of several certifications that allow it to go commercial on a global scale, Halo is well-positioned to achieve the goal of becoming the standard connectivity solution for all unmanned aerial platforms, especially for companies looking to gain regulatory approval for BVLOS (beyond visual line of sight) operations.
Halo is currently running on more than 15 proof-of-concept projects around the world, using more than 50 different drone platforms. The achievement of FCC and CE certifications will allow it to scale commercially in Europe and North America.
Elsight's first in-house product was a multichannel device for security, military and first responder organizations that provided connectivity services, including video, audio and any kind of data transmission, from the field to headquarters and vice versa. The Halo connectivity platform was developed with the experience gained from this product, utilizing Elsight's unique bonding technology and featuring a small form factor, extremely low power consumption, minimal weight and hybrid networking capabilities that make it an ideal connectivity solution for UAVs, UGVs and other unmanned systems.
Halo is based on Elsight's unique connectivity technology that ensures near-real-time high-bandwidth transmission from anywhere, to anywhere. Taking advantage of multiple data links and existing network infrastructure, it maximizes the efficiency of available resources, seamlessly adapting to mission requirements and providing low-latency transmission of any data.
Elsight's powerful bi-directional algorithm splits any kind of data (video, audio, telemetry and more) into encrypted packets, using secure VPN tunnelling to transmit via multiple cellular and RF IP links, and decrypting and recombining at the destination. The algorithm automatically detects any failed channels, seamlessly switching to the most suitable available transmission method.
Elsight has released the following interview with Yoav Amitai, Elsight's new CEO. Amitai has served in several executive roles in Elsight, and played a major part in initiating and executing the company's major strategic transition from project-based to product-oriented company, leveraging its advanced technology and shaping its technological and business vision. Amitai previously served as the GM of an engineering firm, and thus brings extensive operations, technology, and engineering management experience to Elsight.
Is the product stand-alone or do you build it into the software stack?
The idea is to integrate the OEM version of Halo into unmanned platforms. It becomes an integral part of the unmanned platform. The platform manufacturer can use it as a stand-alone plug-andn-play device or, for deeper integrations, we equip our partners with a full API to make the perfect orchestration with the platform.
Who are your clients – drone solutions providers, or software solutions providers?
Our clients are first and foremost those who are looking to operate BVLOS, usually the manufacturers of the platforms themselves. They integrate Halo as an OEM connectivity solution. Solutions providers are a smaller market segment of ours. Our customers include Airobotics, Copterpix Pro, Gadfin, IAI Elta (Robotics), and others.
Are you working with the FAA on this? What can you tell us about it?
Unfortunately, we can't say much about our interaction with the FAA, however we can say that we are deep in the regulation aspects and bring an essential part to approving BVLOS operations.
Given that much of the added value seems to be over populated areas, what type of applications do you envision Elsight being used for?
Halo is used now – and we envision it being massively used in the future – for BVLOS operations of UAVs. Either over populated areas, or less populated areas, Halo enables operations in almost any terrain. We understand that the future of commercially deploying UAVs, under an ongoing approval of the regulator, requires reliability that is almost unbreakable, and that is what we are aiming for – to assist manufacturers with scaling their operations with regulation approvals. That is an enabler for any unmanned application.
How is Covid affecting business?
Israel has been under heavy lockdown most of the time, so we quickly adapted and sent our teams to work from home, which currently works great! Covid has shone a light on the unmanned industry and created amazing opportunities for Elsight with Halo. Even though countries are closing borders, we were able to execute major POCs around the globe with good results, and we expect partnerships to expand quickly in 2020 and into 2021.
How can a manufacturer that wants to benefit from your technology get started?
Book a demo on our website.
What is the most interesting thing about Elsight that we would not find on your website?
Every Elsight employee has a Halo device at home that is used whenever there are broadband challenges. It really helped with our continued operations during Covid-19 while there were internet stability issues at our homes.