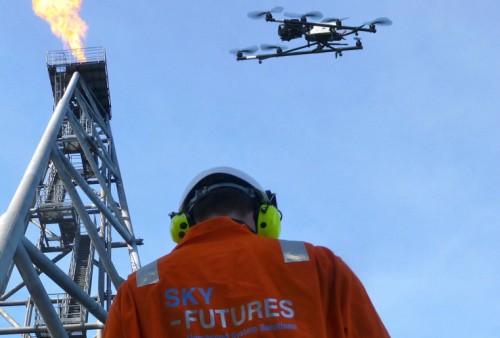 Flock has been selected by drone inspection and survey service provider Sky-Futures as the company's drone insurance partner. Sky-Futures has to date conducted hundreds of large-scale projects in over 33 countries, with plans to expand further. This partnership with Flock will allow it to seamlessly scale its drone insurance in line with these global expansion plans, and to harness insights generated by Flock's risk intelligence engine to further optimise safety standards, continue reducing risk and thereby unlock additional insurance savings.
Sky-Futures conducts a range of services across industries including oil and gas, telecommunications, utilities, renewables, engineering, maritime and surveying. The company has risen to become one of the largest drone-based inspection and survey organisations globally.
Established in 2016, Flock has analysed over a million drone flights to date, and insures thousands of commercial UAV operators, from small firms to global drone fleets. The London-based insurtech firm uses a sophisticated risk intelligence engine that ingests real-time, third party and proprietary data to calculate risk on a per-flight basis. This analysis takes into account a wide variety of datasets, from hyper-local weather and traffic flows to the operating temperature and wind resistance of the drones themselves.
Flock uses the data generated by its risk intelligence engine to create in-depth risk profiles of every operator it insures. These risk profiles allow Flock to provide customers with exposure-based insurance policies and reports detailing the major factors impacting risk. By making operational changes based on these risk reports, companies can improve safety standards and, as a result, unlock additional insurance savings.
The company is now working with insurers to scale globally and apply its technology to additional industries, all as part of its goal of becoming the go-to insurer for the emerging modern connected and autonomous world.
Chris Blackford, CEO of Sky-Futures, commented: "Safety is key for Sky-Futures and our customers, and we needed an insurance partner that shared this focus in everything they do. Flock goes above and beyond, helping to drive safety standards across the drone industry and accelerating the adoption of emerging technology worldwide."
"As we've continued to expand globally, we needed to ensure that our insurance partner had the capability to keep up with our complex needs and rapid rate of growth. We are adding new drones, pilots, and locations to our policy almost every week, it was therefore important that we engaged a data-driven insurtech like Flock that could keep up with our quickly changing requirements."
Ed Leon Klinger, CEO of Flock, said: "At Flock, we take pride in supporting some of the world's largest drone fleets with fair, flexible and transparent insurance. Sky-Futures has been an industry pioneer for many years, and we're delighted to bring them on board."
"In an increasingly connected and autonomous world, it's essential that insurance companies leverage the vast amounts of real-time data available to provide fair, accurate pricing for their customers. But we can go further – at Flock, we're helping our customers understand their own exposure to complex risks, how this impacts their policy price, and how to reduce it over time."