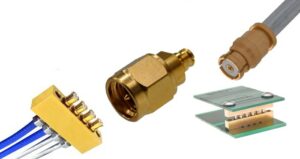 Cinch Connectivity Solutions has introduced a new line of SMP and SMPM vertical launch PCB compression connectors, featuring an innovative solderless design that provides excellent RF performance.
The connectors are available in both common microwave transmission line formats (Microstrip and Stripline) and are ideal for applications such as UAV (unmanned aerial vehicle) MIMO radios and active antennas.
The new connectors are screw-mount and solderless, allowing for quick and easy mounting and removal on PC boards. They provide excellent electrical performance, with a maximum VSWR of 1.50 out to 65 GHz and insertion loss of 0.12 √F dB Max (F in GHz).
The connectors are designed to suit various PCB materials and thicknesses, and the vertical launch design reduces footprint requirements without sacrificing performance, resulting in design and installation versatility and convenience.