A connected vest by Wearin' which features the Fischer LP360™ Connector, has received a Platinum rating, the highest recognition awarded by The Military & Aerospace Electronics Innovators Awards, announced on September 8th 2020.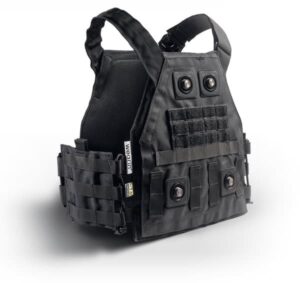 Wearin's connected vest uses several Fischer LP360™ connectors and active devices to enhance usability, optimize power and cable management, and facilitate maintenance.
"Connected Vest from Wearin' [as] a centralized integrated connectivity system for the infantry warfighter with an integrated distributed data and power bus that can eliminate the need for several batteries, external wires, and break-out cables that can weigh soldiers down and limit their movements. The vest offers optimized power management through the single central power source; enhanced usability through optimized cable management; and convenience from the integrated data and power bus for easy cleaning and replacement, as well as for technological upgrades when more advanced components become available."
– Military & Aerospace Electronics Innovators Awards: Jury's description.
About the Technology Innovators Awards program runs annually and recognizes companies in the aerospace and defense electronics industry for technological innovations that solve defense and aerospace electronics design challenges with real solutions. The same Platinum Innovators Award was given to the Fischer LP360™ connector from the Fischer Freedom™ Series in November 2018.
Part of the Fischer Connectors Group, Wearin' designs and develops wearable connectivity solutions that maximize the safety and performance of connected humans. Through its worldwide network of specialized partners in connectivity, data, gear, user adoption and human factors engineering & technology, Wearin' acts as a catalyst breaking product silos to co-create holistic wearable solutions for professional communities operating in demanding, and data-rich, environments such as defense & security, construction, industry, aerospace, extreme sports and healthcare. As a company Wearin' combines the agility of a start-up with the expertise of one of the world's leading manufacturers of rugged connectivity solutions for harsh environments.