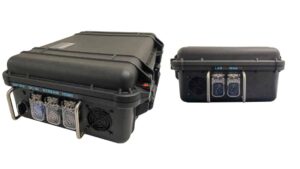 Dejero and STRAX Intelligence Group (SIG) have developed the STRAX PoDD (Portable Datalink Device), a rugged and compact system that is designed to provide robust, high-bandwidth data connectivity with maximum portability and regular field use in mind. The STRAX PoDD is ideal for delivering secure real-time data such as video feeds from UAVs (unmanned aerial vehicles) and other unmanned systems, especially for first responder and emergency applications.
The PoDD broadcasts data to the STRAX Rapid Response Platform, allowing critical situational awareness information to be disseminated to fellow responders, remote command centers, headquarters and other authorized users to enable rapid decision making and response. The STRAX cloud-based solution provides a common operating platform designed for, and used by, Public Safety and Government agencies, and private security organizations. The Platform unifies alerts, sensors, data, video feeds and communication into a single software platform to provide real-time intelligence. A fundamental component of the PoDD is the Dejero GateWay 211 network aggregation device, which provides reliable and secure mobile internet connectivity in challenging network conditions and is tightly integrated with the STRAX Rapid Response Platform through an API with the Dejero Control cloud management system.
Dejero and SIG worked with local law enforcement to use the PoDD and the STRAX Rapid Response Platform to enhance security for the 2020 Orange Bowl and the Super Bowl in Miami Gardens, Florida. Live aerial and camera feeds were streamed to remote command centers and vehicles operated by the multiple agencies that were ensuring the safety of the events. Dejero's technology enabled aggregation of all the available cellular providers into an uninterrupted stream, allowing seamless connectivity throughout the weekend and game day, while the STRAX Platform offered enhanced situational awareness and real-time information.
Dejero specializes in aggregating diverse communication paths and simultaneously blends together multiple wires (broadband, fiber) and wireless (3G/4G/5G, Wi-Fi, satellite) IP connections from multiple providers to form a virtual network of networks. Dejero's ability to deliver reliable connectivity is made possible by the company's unique Smart Blending Technology, which dynamically and intelligently manages the fluctuating bandwidth, packet loss, and latency differences of individual connections in real-time. The result is enhanced reliability, expanded coverage, and greater bandwidth.
Bogdan Frusina, founder of Dejero, commented: "Our technology partnership with STRAX provides enhanced reliability that first responders need when it comes to critical communications. Our combined technologies within the PoDD make it a premier solution that will significantly increase response times in emergency situations — especially in remote, contested and congested environments."
Scott Adams, CEO and Co-Founder of STRAX Intelligence Group, said: "I am excited to offer this new solution to our customers where I know it can make a difference to responders that are working hard to keep themselves, and their communities safe. Real-time data and reliable connectivity are critical to ensuring the safety of officers and the public, the PoDD provides this regardless of the situation or the location."