Cinch Connectivity Solutions, a leading manufacturer and supplier of high-quality, ultra-reliable connectivity and cable assembly solutions, has partnered with Unmanned Systems Technology ("UST") to demonstrate their expertise in this field. The 'Gold' profile highlights how their products can be used in a range of demanding military, commercial and industrial applications, including unmanned systems such as UAVs (unmanned aerial vehicles), UGVs (unmanned ground vehicles) and UUVs (unmanned underwater vehicles).
Cinch's C-ENX line of EN4644 rectangular connectors is designed for next-generation UAV and aerospace applications. Optimized stacking configurations provide low SWaP footprints, and the high degree of modularity using the same panel cut-out and shell cavities reduces design complexity.
Shells are made from aluminium or nickel-plated composite, and the environmentally sealed inserts provide configurations for signal, power, data, RF and fiber.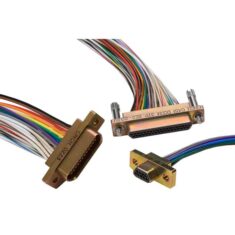 Cinch Dura-Con micro-miniature D connectors, with 0.05 inch (1.27 mm) pitch, are designed to provide a rugged dense interconnection solution for high-reliability SWaP-constrained applications such as drones and robotics.
Qualified to MIL-DTL-83513, Dura-Con Micro-D connectors feature a unique twist pin design providing 7 points of contact when mated.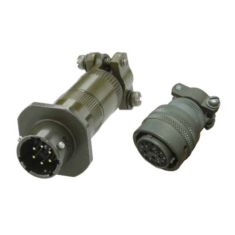 Cinch provides a wide variety of COTS and custom circular connectors for demanding military and aerospace applications such as mission-critical UAV systems.
The hermetic glass-sealed mil/aero circular connectors prevent leakage even under extreme changes in temperature, pressure, and humidity.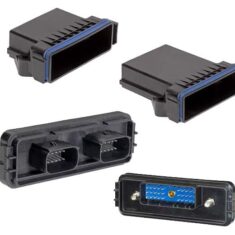 The ModICE lines of connector enclosures and harness connectors provide sealed packaging solutions and I/O interconnects for rugged electronic control modules. Ideal for robotics systems such as UGVs operating in extreme environments, the connection technology is based around the Cinch 1.5mm SHS system.
ModICE products feature IP67 and IP69K sealing, three distinct enclosure sizes (ME, SE, LE), and header configurations of 18, 30, 48 and 60 I/O connections.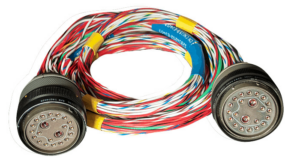 FQIS (Fuel Quantity Indicating Systems) wiring harnesses provide supreme reliability in harsh aviation environments and have been qualified by Boeing for critical applications in aircraft systems. The BQMS D6-82479 and FAA Form 8130-3 approved harnesses feature gas tight crimp and solder terminations, lightweight hermetically sealed spar connectors, and modular harness design for ease of installation.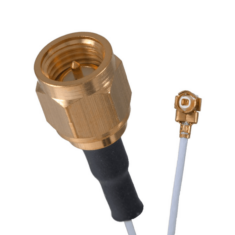 The Johnson line of industry-leading RF coaxial connectors and adapters are designed for high-quality audio, video and data transmission, and are available in both 50 and 75 ohm versions. The broad Johnson product range includes 2.92mm/2.4mm/1.85mm RF connectors, SMA/SMB/SMC/QMA/Type N connectors and terminations, UMC/MMCX/MCX RF Connectors, non-magnetic RF solutions, test cable assemblies, high-frequency adapters and more.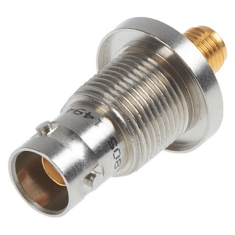 Trompeter's MIL-STD-1553B coaxial products have been engineered to provide the highest-quality signal integrity for demanding military, aerospace, video broadcast and precision instrumentation applications.
The Trompeter catalogue, which includes all required elements for MIL-STD-1553B avionics and UAV data buses, incorporates coax/twinax/triax interfaces, space-rated RF connectors and cable assemblies, Mil-Std-1553 data bus connectors, quick lock, threaded and bayonet connectors, and more.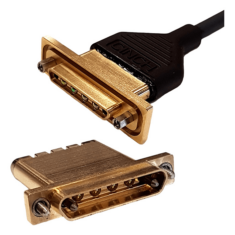 Fibreco fiber optic expanded beam connectors and cable assemblies are designed for critical communications in harsh environment and are ideal for military, offshore, heavy industry and many other demanding applications. The flexible connectivity solutions feature a simple termination process that allows for rapid and convenient field repair.
The Stratos range of high-reliability optical transceivers and subsystems is ideal for unmanned systems requiring high-speed connectivity in challenging situations. Stratos products are virtually impervious to dust, mud, oil, water, and other contaminants and hazards occurring in harsh environments.
To find out more about Cinch's connectivity and cable assembly solutions for UAVs and unmanned systems, please visit their profile page:
https://www.unmannedsystemstechnology.com/company/cinch-connectivity-solutions/