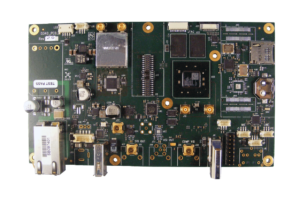 Domo Tactical Communications (DTC) has launched a new OEM digital diversity video receiver and hardware-based streaming IP video decoder board, the D340-OEM. The new product incorporates DTC's Maximal Ratio Combining (MRC) diversity reception technology, and is ideal for mission-critical systems such as UAVs (unmanned aerial vehicles) and other robotic systems requiring reliable video transmission in demanding urban multipath environments.
The D340-OEM features two onboard wide range UHF tuners and can be optionally expanded to four inputs via a plug-in daughterboard. When paired with a downconverter from DTC's comprehensive range, it can access frequency bands from VHF to X-band. The system supports reception of DVB-T transmission in 8,7 and 6MHz bandwidths as well as DTC's proprietary Narrowband COFDM modes (2.5MHz, 1.25MHz & 625KHz) for enhanced range and spectral efficiency.
In addition to ultra-low latency H.264 video decoding, the system provides a comprehensive range of interfaces including HDMI, HD-SDI and analogue composite video (PAL/NTSC), as well as audio, serial, ethernet, ASI and chaining. Optional AES128/256 encryption is available for high-security applications.
The D340-OEM is an ideal complement to DTC's COFDM video transmission and IP video encoding solutions, allowing users to securely and reliably monitor, communicate and share information even in the most demanding of environments.