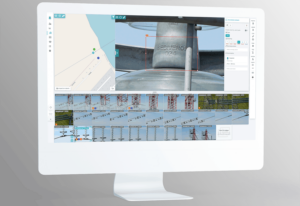 Scopito, developers of an AI-based visual data management solution for processing UAV (unmanned aerial vehicle) inspection imagery, have released a series of calculations that demonstrates a typical return on investment when using their data analysis service. Based on a powerline inspection project completed in conjunction with Altitude Imaging, the calculations outline the difference between performing on-site analysis of each pylon versus uploading data to and completing the analysis in Scopito.
Access the calculations here (due to business-sensitive information, Scopito has provided a contact form for full access)
The calculations take into account the cost of hiring a drone pilot, as well hiring as an additional in-field data analyst versus using Scopito, and show the number of pylons inspected per hour and cost per pylon for various permutations of personnel and Scopito service usage.
Using visual data management software to analyse UAV and drone inspection data and imagery can provide a significant return on investment due to the time and cost savings. Other advantages include ease of reporting, cloud-based sharing, historical comparisons and organized data storage.
To find out more about the benefits of using Scopito for drone data analysis, request to view the calculations here.