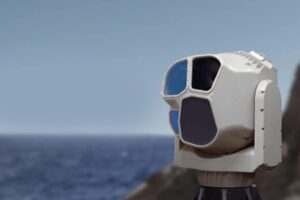 Ascent Vision Technologies (AVT), a developer of gyro-stabilized imaging systems for aerospace and defense applications, has announced the launch of its next-generation multi-mission imaging system for maritime counter-unmanned aerial system (CUAS) and intelligence, surveillance and reconnaissance (ISR) missions.
The CM262M combines full HD, 4 sensor configurations and a next generation video processor in a compact, man-portable system, and is IP67-rated for high reliability in harsh maritime conditions. It can be integrated into AVT's X-MADIS (eXpeditionary Mobile Air Defense Integrated System) anti-drone platform for improved detection, identification and tracking capabilities. The imaging system provides automated slew to cue on a detected object, allowing rapid interpretation and positive identification of flying objects – a critical component of any CUAS operation.
Lee Dingman, AVT President, commented: "A superior optic is a vital component of an effective counter UAS system as it provides necessary information on the characteristics of the sUAS to the operator, allowing for positive identification. Once correctly identified, the appropriate action can be taken against the airborne system."
"The X-MADIS is already an extremely capable and innovative CUAS solution. The addition of the CM262M as the optics system allows us to further enhance the capabilities of the X-MADIS, particularly for maritime counter UAS missions."
The CM262M will be showcased at the 2020 Singapore Airshow by AVT Australia, Ascent Vision's APAC division.