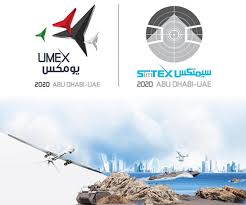 Building on the success of the previous Unmanned Systems Exhibition and Conference in 2016 & 2018, launched during the International Defence Exhibition and Conference (IDEX), the Middle East region is ready to welcome a bigger and better UMEX show in 2020, with a broader scope which will include a Simulation and Training (SIMTEX) zone to reflect the growth and investment in the UAE and GCC countries.
UMEX and SIMTEX showcase the MENA regions industry leading and growing unmanned system segments and is the only event in the Middle East dedicated to drones, robotics, components and unmanned systems. Ideally positioned to provide a professional platform for manufacturers to meet operators and establish lucrative business relationships while promoting the defence, environmental, civil and humanitarian benefits of unmanned systems.
Keeping pace with the forefront of industry innovations and market requirements – UMEX 2020 will be a standalone show which will feature an exhibition, conference and live flying demonstrations and will provide an ideal platform to discuss the latest developments, trends and innovations in the UAS sector.
In 2020, UMEX will feature a Simulation & Training (SIMTEX) section which will promote cooperation among the Armed Services, Industry, Academia and various Government Agencies in pursuit of improved training and education programmes identification of common training issues and development of multiservice programmes.
In 2018, the event attracted 122 exhibiting companies, 34 participating countries, 390 conference delegates and 12,400 visitors. Supported by UAE Armed Forces GHQ and attended by regional government delegations, agencies, industry, military and civilian authorities, the event will be the ideal business platform to promote unmanned systems technology and capability to a dedicated and focused industry audience.