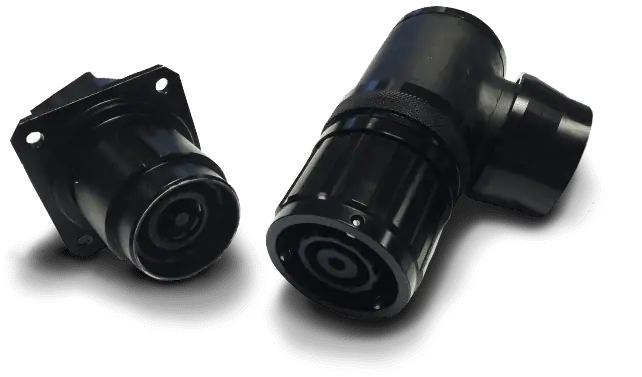 TT Electronics a global provider of engineered electronics for performance critical applications, will be showcasing three new diverse connector solutions at DSEI 2019, in London.
Designed for harsh environment applications, the Pola Power, OcTrain and SteadiShield additions to the TT interconnect range, ensure the high-speed data integrity and improved power distribution required by unmanned or autonomous vehicles.
Speaking about the new range TT Electronics' Business Development Manager, Leigh Chapman said; "TT's comprehensive experience within the connectors industry has resulted in innovative products like SteadiShield and OcTrain – solutions that perform brilliantly in harsh environments and make a significant impact on today's military vehicle designs."
Pola Power: extremely durable, high performance single pole power connector with bayonet coupling.
Extensive operating temperature capability of -55°C to +150°C
Ability to withstand vibrations of 5-500Hz (long endurance 30 hour test at 10g)
Quick disconnection
500 mated cycles (minimum)
Straight and 90° options as well as 360° screening
SteadiShield: reverse bayonet connector fitting for designs requiring one connector with multiple ethernet screens.
Significant power distribution capabilities
360° screening with no additional components required
Five multi-pole contact styles are available: Co-ax, Twin-ax, Tri-ax, Quadrax, and 10Gb ethernet (OcTrain).
The SteadiShield connector can be sealed to IP67 with the OcTrain 10Gb Ethernet contact for Cat 7 Cable, offering compatible sealing to the same standard within the connector and providing an ideal secure solution for harsh environment communication equipment and braking systems applications.
OcTrain: meets ultra-high-speed connection requirements to aid heavy data consumption in extreme conditions. Suitable for:
22 and 24AWG wire
CAT 6A and CAT 7 cable
A range of cable jackets from 4mm to 8.1mm
The OcTrain is fully compatible with TT Electronics' range of established ABMP connectors
The new connectors will be displayed by the TT Electronics design and engineering team at DSEI 2019, Excel London, 10-13 September 2019.