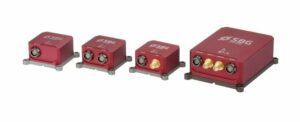 SBG Systems has announced the release of version 1.7 of the firmware for its Ellipse and Ellipse Micro series of its IMU, AHRS and INS sensors for UAVs (unmanned aerial vehicles) and other unmanned systems and robotic platforms. The major update includes the following new features and enhancements:
CAN odometer for autonomous testing and driving markets: users now have the choice of either an external odometer (DMI) with pulses or the car's odometer with velocity information. Approximate resolution can be entered during installation, and the sensor will then refine the parameters to automatically obtain the best performance.
New automotive outputs: body velocity and slip angle, which calculates the "drift" angle between the vehicle's assumed trajectory and its actual (deviated) trajectory.
Fixed lever arms mode: the Ellipse Kalman filter can now be run with no lever arm estimation, ensuring centimeter pass to pass accuracy for RTK applications and allowing operation for low-dynamics applications, also reducing the warm-up time. Qinertia Lite can be used to obtain centimeter precision calibration for lever arms. For general purpose applications, the standard mode of operation that refines the lever arms in real time is still available.
Advanced marine applications: DVL aiding support helps reduce underwater drifts from the inertial sensor, opening up possibilities for applications such as short subsea navigation with affordable inertial sensors. New output message (INDYN) has been added to support performance sailing autopilots such as B&G H5000.
Improved magnetic calibration: sbgCenter embeds a new magnetic calibration algorithm that improves overall performance even in difficult calibration conditions, while providing improved quality feedback.
The new firmware update can be downloaded from SBG's website.