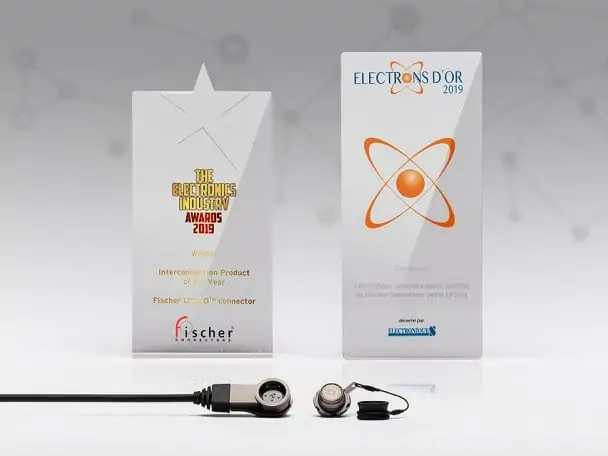 Fischer Connectors, a manufacturer of interconnection solutions for unmanned aerial vehicles (UAVs) and other robotic systems, has announced that its LP360 connector, part of the Fischer Freedom technology platform, has won two prestigious awards: the Electronics Industry Award as Interconnection Product of the Year, and the Electrons d'Or Award as best product of the year in the Connectors category.
With these two awards on top of those won in 2018 – the Leadership in Engineering Achievement Program (LEAP) Award and the Innovators Award (web news), Fischer Connectors' connectivity solution has been recognized as a new versatile technology platform that enables design engineers to launch more innovations in their applications and to make their electronic devices, equipment and ecosystems smarter, faster and more efficient.
In London, the Fischer LP360 received the 2019 Electronics Industry Award for Interconnection Product of the Year, an award which goes every year to "the company with the most outstanding interconnection product that demonstrates durability, innovation and differs from other connectors on the market." The annual UK-based Electronics Industry Awards program brings together leading figures from the electronics field to celebrate their achievements and reward the market leaders who have ve designed the most innovative and forward-thinking products in this blossoming sector. The awards' judging panel is made up of electronics industry professionals.
In Paris, the co-organizers of the 2019 Electrons d'Or, ElectroniqueS magazine and Acsiel Alliance Électronique, announced that the circular connector Fischer LP360 had won the Electrons d'Or award as best product of the year in the Connectors category. The annual Electrons d'Or award program celebrates ground-breaking electronic products and innovations in France. In 2019, 15 Electrons d'Or were awarded in various categories, highlighting nine best products of the year (incl. the Fischer LP360 connector), four innovations in electronics application domains and two outstanding electronics companies. Its independent expert jury is made up of electronics industry professionals and distinguished academics in this field.
"With this Electron d'Or, our expert jury has rewarded a real technological breakthrough in the field of circular connectivity for harsh environments and its uses," said Pascal Coutance, Director of ElectroniqueS magazine.
Fischer Connectors Group's CEO Johnathan Brossard commented: "I'm overjoyed that our efforts to reimagine connectivity are gaining worldwide recognition from our peers in the electronics industry. As experts know, breakthrough innovations are rare beasts in the world of connectors, whose technology hasn't dramatically changed since the 1950s. In the electronics world, we see breakthroughs every decade or so. That's why innovation in connectivity is especially important – and duly noticed and rewarded – when it fulfills, as it does here, electronics requirements and trends such as usability, integrability, versatility, wearability, miniaturization, data transmission and the Internet of Things (IoT). I'm very proud of our R&D and cross-functional teams that developed our ground-breaking Fischer Freedom technology platform, putting people first and working with our customers to make their lives easier."