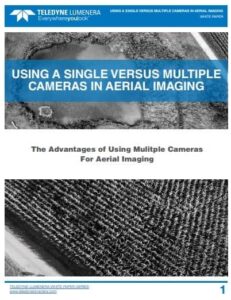 Teledyne Lumenera, a developer of high-performance digital cameras and imaging solutions for UAVs (unmanned aerial vehicles) and robotics, has released a whitepaper outlining the advantages of using multiple cameras for aerial imaging applications.
Download the whitepaper from Lumenera's website
The whitepaper gives details of:
Pixel height and width in mosaic creation
Stitching images
Software and hardware triggering solutions
The challenges of onboard image processing and SWaP constraints
Using manned and unmanned aircraft
Pricing
Using multiple cameras for UAV aerial imaging can provide several advantages over using a single camera. To find out more, download the whitepaper from Lumenera's website here.