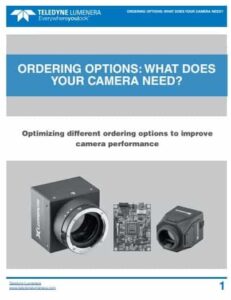 Teledyne Lumenera, a developer of high-performance digital cameras and imaging solutions for UAVs (unmanned aerial vehicles) and robotics, has released a whitepaper outlining how to optimize different ordering options to maximise performance for a particular camera application.
The whitepaper gives details of the following camera ordering options:
WOG (Without Glass)
WOCG (Without Cover Glass)
SCI (Scientific Glass)
WIR (With IR Filter)
WOIR (Without IR Filter)
CC (Conformal Coating)
Deciding which camera is best for an application involves looking at many factors. As part of that evaluation process, there are a number of standard camera ordering options that can be selected to improve the performance of the camera depending on the application. To learn more, download Lumenera's whitepaper here.