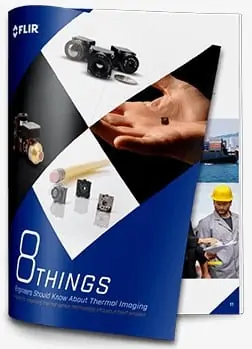 FLIR have released a free digital guidebook entitled "8 Things Engineers Should Know About Thermal Imaging – A guide for integrating thermal sensor technology into your next project".
Thermal imaging is used for a wide variety of unmanned aerial vehicle (UAV)-based applications, including construction, surveillance, firefighting, search and rescue, and law enforcement.
Download the guidebook from FLIR's website
The guidebook covers the following topics:
Thermal imaging technology and its applications
How thermal cameras work
How to pick the right thermal imager for your integrated product
Radiometric capabilities
What to look for in an IR supplier
The total cost of ownership
Export licenses for thermal cameras
To learn more about integrating thermal imaging technology for UAV and robotics solutions, download the guidebook from FLIR's website here.