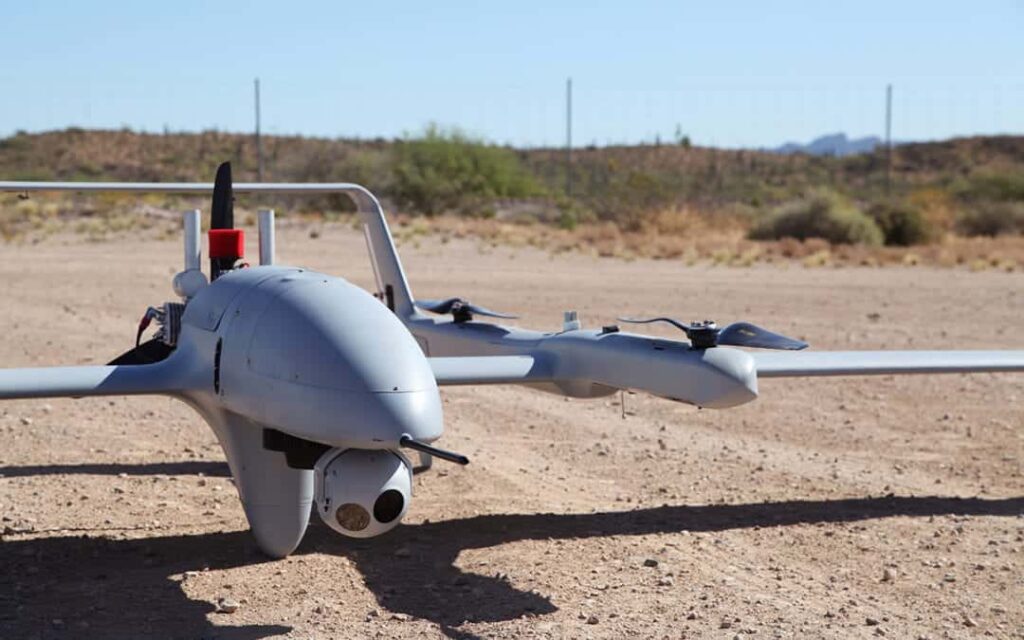 Ascent Vision Technologies (AVT) has confirmed that Bridger Aerospace has integrated their imaging sensors into Latitude's FVR-90 VTOL (vertical take-off and landing) fixed-wing unmanned aerial system (UAS), to create the world's most advanced aerial firefighting surveillance system.
The Gen V system will be used by Bridger's highly skilled and trained team of drone operators to tackle extreme fires, and better support wildfire management and relief missions.
The fully integrated system combines AVT's revolutionary lightweight CM142 imaging payload; AVT's Fire Mapper; and Latitude's FVR-90 VTOL fixed-wing UAS.
The CM142 optic delivers real-time aerial data, transferring high definition daylight and crisp long-wave infrared imagery directly to the remote ground station. The footage highlights hotspots, areas affected and areas at risk of damage. The Fire Mapper includes short-wave infrared, long-wave infrared and a 13-megapixel daylight sensor. Real-time fire mapping with live locations facilitates better decision making when responding to the fire.
Latitude's next generation VTOL provides greater flexibility in deployment, allowing take-off and landing to take place from any location, at any time. With an endurance of up to 15 hours, the system can perform for long durations to ensure the team collects the data required for the mission.
Using a fully integrated, user-friendly rover system, Bridger Aerospace will provide firefighters with remote access to live video with real-time overlays of telemetry and metadata. Operators can communicate to the aircraft using the primary datalink and a small portable handheld radio device. The system uses a MIMO (multi in multi out) data link, which extends the range from the ground station out to over 50nm.
The fully integrated system combines everything needed to support the US Government in tackling the country's most dangerous fires, helping firefighters save lives and reducing damage. Bridger Aerospace is one of the two companies in the United States authorized to conduct BLOS (beyond line of site) flights in active fire zones. With over 13 years of experience in providing solutions for wildfire management, Bridger delivers revolutionary equipment and a skilled team of operators to tackle each firefighting mission.
CEO at Bridger Aerospace, Tim Sheehy, said:
"We have developed a world leading aerial firefighting surveillance tool that will transform aerial data collection for fire management and relief missions in the United States. The system includes Latitude's FVR-90 VTOL, which is fitted with AVT's high-performance CM142 sensor and Fire Mapper to support the US government in managing the country's major wildfires.
This system will have a huge impact on wildfire management by providing all the essential tools needed to help save lives. This revolutionary firefighting surveillance solution will be controlled by Bridger's highly-trained team of UAS operators to provide a world-leading service to combat wildfires."
Integrated Systems Manager, Weston Irr, said:
"This marks the second year where Bridger Aerospace supports firefighting missions in the US using an unmanned aerial system. With our new Gen V fully integrated UAS system, we can provide firefighters with remote access to accurate, real-time imagery. This data will have a huge impact on the efficiency of their operation by facilitating fast and informed response to the fire."