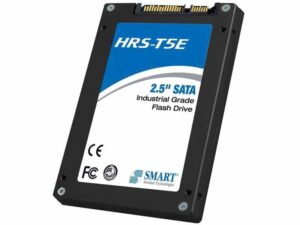 SMART Modular Technologies, a developer of solid state storage products, has announced a new addition to its SMART RUGGED product line, the HRS-T5E 2.5″ SATA SSD.
Powered by a flexible, custom flash controller, the HRS-T5E SSD provides read/write performance ideal for high throughput applications such as flight data recorders and sensor data capture for UAVs (unmanned aerial vehicles). It is also well suited for high-reliability telemetry, surveillance, and other mission critical storage applications.
Available in capacities up to 4TB, SMART's new 3D TLC NAND Flash storage solution offers more reliability, superior performance, and requires less power and cooling in applications where traditional hard disk drives (HDDs) are typically used. Recent improvements in 3D NAND, endurance-enhancing data placement and error correction technology, make the T5E perfectly suitable as a cost effective replacement for 2D planar based SSDs for read-intensive applications.
As part of the SMART RUGGED product offing, the T5E can be configured with a host of optional security features. These include SMART's Security Data Elimination Technology (SDET) which meets current declassification standards, as well as AES-XTS 256-bit encryption, which automatically protects all data written to the drive. The HRS-T5E also passes MIL-STD-810G standard and can be configured for OPAL 2.0 compliance.
"What makes the T5E unique versus the competition is that, from a configuration standpoint, it is very flexible," stated Mike Guzzo, General Manager of SMART RUGGED. "In addition to inclusion of our standard ruggedization features, this drive can be configured with an impressive list of optional security features, mil-erase sequences or other customer specific requirements."