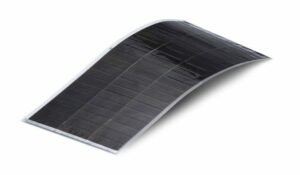 Alta Devices has announced a new solar solution that is designed to meet the specific needs of unmanned aerial vehicles (UAVs) that can serve as platforms for cellular and IoT (Internet of Things) connectivity. By combining its breakthrough solar cell technology with several new inventions, this solution offers features to maximize power, minimize weight, and provide sufficient protection from the harsh environment commonly found in the Earth's stratosphere.
High altitude long endurance (HALE) UAVs that fly at stratospheric levels (sometimes also referred to as high altitude pseudo satellites (HAPS)), are an important new aircraft category and can include airplanes, airships, and/or balloons that can fly at altitudes of 20 kilometers (60,000 feet) for extended periods of time. In addition to being used for a variety of communications (such as cell phone connectivity and others), these aircraft can be used for intelligence, surveillance and reconnaissance (ISR), search and rescue, border patrol, mapping, and many other applications. Solar power is critical for these aircraft, particularly because the objective is to fly for years without refueling.
Flight at this altitude demands solar technology that is different from the type used in terrestrial installations or in space. For example, at 60,000 feet, ultraviolet radiation from the sun is more intense than on the earth's surface. Unlike in space with zero gravity, the generation of lift is important for stratospheric vehicles. In order to allow the aircraft to carry a useful payload and enough batteries for night flight, the solar technology used must be extremely light-weight. In contrast to both terrestrial and space applications, at 60,000 feet, mechanical stresses during flight can be very tough on the aircraft surface and solar panels, so the solar material must be flexible and durable.
Alta Devices' new HALE solar product uses world-record efficiency single junction gallium-arsenide solar cells, producing industry-leading power-per-unit-area under high-altitude operating conditions. Alta has worked closely with its HALE customers to solve critical challenges related to the mechanical and electrical integration of this technology onto multiple aircraft platforms. The company developed a special, lightweight packaging solution that protects the solar cells from the extreme UV, ozone and the thermal environment of the stratosphere, while maintaining a smooth, aerodynamic surface.
Other crucial challenges addressed by Alta include designing for mechanical stresses and vibration expected during flight and developing techniques for successful co-curing into lightweight composite structures. Optimizing a solar array for an aircraft requires complex configurations that maximize cell packing factor, minimize electrical mismatch and allow the design to utilize maximum surface area for solar. Alta worked with its customers to understand these requirements and developed sophisticated module designs that address these issues, thus providing an easy-to-integrate solution that maximizes system performance, while reducing the amount of work required during installation.
Alta Devices CEO, Jian Ding, commented, "Alta Devices recognizes that our aerospace customers need to innovate every aspect of these new and complex aircraft systems. With our new HALE solar solution, they now have one less thing to worry about. This will simplify the design process and significantly reduce the complexity involved in manufacturing these aircraft."
The Alta Devices HALE solar product, called Alta Devices Anylight Solar for HALE, utilizes Alta's recently announced 29.1% world-record efficiency single junction solar cell. It provides performance of over 300 W/m2 under high-altitude operating conditions. This product provides packing density of up to 94% including diodes and connectors. Aerospace-grade UV and ozone-resistant materials encapsulate the lightweight gallium arsenide solar material for multi-year life. Alta Devices engineers with extensive expertise in integration are available for customer support and advice on optimal integration techniques such as co-curing or adhesives. Finally, Alta Devices is ramping its production capability in response to its customers, who plan to manufacture a multitude of HALE aircraft in the near future.