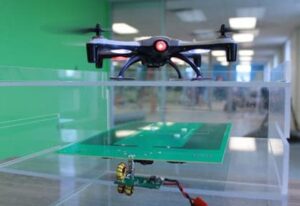 Solace Power, a developer of wireless power, sensing and data solutions, has announced the release of the Equus100 and Equus200, two new modular platforms sharing the same Equus architecture and enabling up to 200 Watts of transmitted power with sizable x, y & z freedom of design.
Known for its electric field-based platforms, which do not heat metal and batteries or require expensive coils, Solace has designed these production ready, higher power development systems in the Equus family for reliable, truly decoupled power, sense and data applications, including autonomous car systems, unmanned aerial vehicles (UAVs) and other robotic platforms.
Find Suppliers of Power Solutions for UAVs
"We have listened to our partners and have developed a platform which improves design cycle times and delivers the production features they want to our industry workhorse solution Equus. Solace focuses on delivering complete, yet modular, systems which are pre-tested for CISPR/FCC compliance and optimized in-house for rapid development in real world applications," said Michael Gotlieb, CEO, Solace Power. "Aerospace slip-ring replacement, automotive seating and lighting, small autonomous vehicles and medical carts are already reaping the benefits of these new platforms," added Gotlieb.