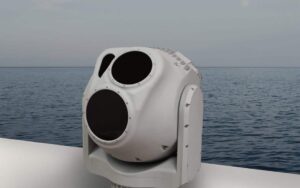 Ascent Vision Technologies (AVT) has announced the launch of a new multi-spectral imaging system for maritime intelligence, surveillance and reconnaissance operations. The CM262 is a multi-intelligence, gyro-stabilized imaging system that combines advanced imagery and stabilization technologies in a compact sub-12kg system.
It is ideal for unmanned aerial vehicle (UAV) applications such as border protection, littoral security, maritime patrols and SAR missions.
Three sensor configurations (including HD daylight, HD Mid-Wave infrared and a laser range finder) enable maximum situational awareness and target acquisition during the day and at night.
For long range target detection and identification, the CM262 offers 60x daylight and 20x MWIR continuous optical zoom. Optimized for the ever-changing maritime environment, the CM262 delivers crisp and accurate imagery through sea glare, fog and smoke. Its state-of-the-art video processor produces accurate, reliable and autonomous object tracking; improved on-the-move stabilization; and robust video content analytics.