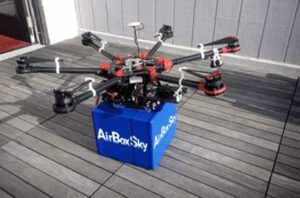 Drone Delivery Systems has announced that it has partnered with Aero Systems West (ASW) to provide a new end-to-end package drone delivery solution. With the new partnership, Drone Delivery Systems will now offer autonomous commercial delivery drones from ASW, powered by the hardware standard for open source autopilots, in addition to professional long term support with ASW's DroneCare subscription.
The new solution will utilise Drone Delivery Systems' AirBox technology, a smart mailbox system centered around Internet of Things (IoT) ESP32 technology. ASW's DroneCare is a subscription service that includes aviation-grade drone hardware, training, maintenance, service upgrades, and accident protection.
The partnership will couple expert long-term support with commercial unmanned aircraft-conducted package delivery. With DroneCare's integration into the AirBox ecosystem, drone deliveries will be conducted with certified, reliable, and safe platforms.
"We have extensively vetted the commercial drone manufacturers, to offer our partners the most advanced reliable commercial UAVs on the market, combined with our innovative smart AirBox Technology. Aero Systems West not only manufactures state-of-the-art autonomous UAVs with Pixhawk controllers, but also their team is made up of advanced Part 107 pilots, trainers, service providers and a full range of talent in the commercial drone industry. Drone Delivery Systems will continue to align itself with the most advanced UAV technology companies in the industry," commented Brandon Pargoe, President of Drone Delivery Systems and inventor of AirBox Technology.